U.S. Farm Trade Surplus to Shrink as Chinese Tariffs Bite
(Bloomberg) -- Agriculture, one of the few areas of the U.S. economy that sells more abroad than it buys, will see its trade surplus shrink next year as shipments to China collapse amid a trade war between the two nations, according to a government forecast.
The world's biggest agricultural exporter will see a surplus of $18 billion in the fiscal year beginning Oct. 1, down 7.7 percent from the current year, the U.S. Department of Agriculture said Wednesday in a quarterly forecast.
China, the largest buyer of U.S. farm goods in 2017, is expected to fall to third place this year, after Canada and Mexico, and then to fifth place behind the European Union and Japan, the USDA said. That follows Chinese tariffs imposed on soybeans and pork earlier this year, a move that has depressed prices for both commodities.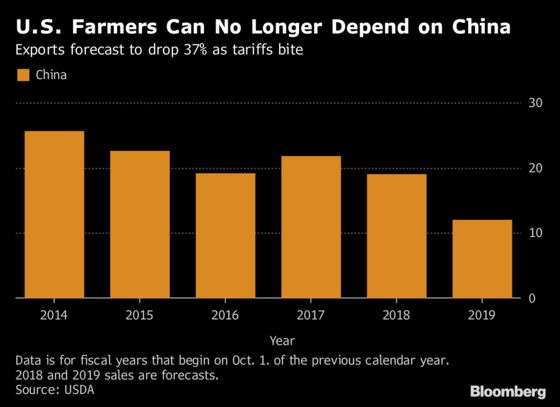 Shipments to China will plunge 37 percent to $12 billion, according to the USDA. Still, other trading partners including Mexico and Canada will step up purchases, leading to overall exports increasing by $500 million to $144.5 billion. U.S. imports from other nations will rise by $2 billion.
"The greatest unknown is China's demand for U.S. soybeans," USDA economists wrote in the report.
The department also cut its forecast for the trade surplus in the current fiscal year to $19.5 billion, less than the $21.5 billion projected in May.
The USDA announced Monday a $4.7 billion round of direct payments to producers damaged by the trade war. Farmer organizations are calling for a speedy resolution to the conflict.