U.K. Business Confidence Slumps as Brexit Tarnishes Outlook
(Bloomberg) -- U.K. companies became more pessimistic in August as concerns that Brexit will hurt growth increased.
Business confidence slid to the lowest level since December, with both trading prospects and optimism toward the wider economy declining, according to a survey by Lloyds Bank. Only 21 percent of the companies intend to increase hiring over the coming year, down from 30 percent in July.
"Business confidence was resilient in the first half of the year, but has eased back recently," said Hann-Ju Ho, senior economist at Lloyds. "This reflects changes in perceptions of Brexit risks."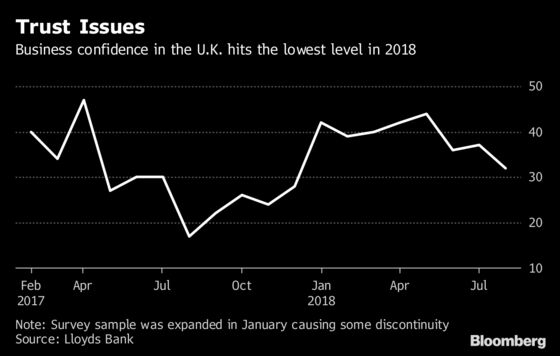 Companies are increasingly concerned about the effects of Britain's impending exit from the European Union, with 32 percent of the firms saying Brexit is eroding their business expectations. In July, the number was 28 percent. The survey was conducted in the first half of August before the resumption of the divorce talks.
Business confidence fell most in construction and consumer services, while it only remained steady in manufacturing.
Shoppers, on the other hand, shook off some of the Brexit anxiety in August as consumer confidence climbed to the highest level since May, a separate report by GfK showed. Households felt better about their savings and were more eager to make major purchases.
Joe Staton, client strategy director at GfK, said that consumers might have developed "an immunity to the Brexit babble."
"We are just months away from the Brexit crunch but there is no sign yet of any crash in consumer confidence," he said. "Yes, the core index continues to muddle along in negative territory, but Armageddon seems a distant prospect."