Trump Says U.S. 'Much Stronger' Than China in Trade Disputes
(Bloomberg) -- President Donald Trump declared Thursday that China won't outlast the U.S. in their trade dispute, and said his administration is re-examining how to determine whether countries are manipulating their currencies.
Trump has repeatedly complained that China manipulates the renminbi, also known as the yuan, a charge that isn't officially supported by his government.
"We are a much stronger country," Trump said in an interview with Bloomberg News in the Oval Office. "Nobody's waiting us out. Our country is stronger than it's ever been financially."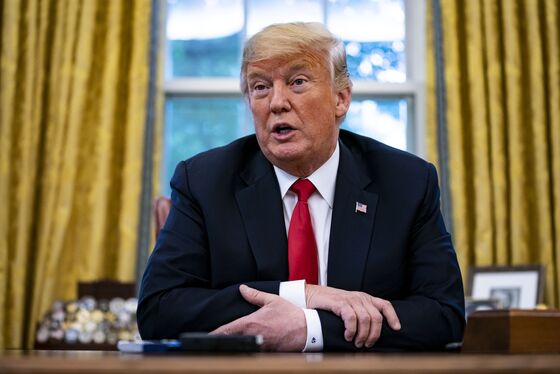 Trump again alleged in an interview with Reuters last week that China was manipulating its currency. The president's accusation, presented without explanation or substantiation, conflicts with the findings of his own administration. The Treasury Department stopped short of naming China, the EU or any other country as a currency manipulator in April, in a semi-annual report on foreign-exchange policy.
"It is a formula," Trump said Thursday. "And we are looking very strongly at the formula."
He said that China has devalued its currency in response to a recent slowdown in its economic growth.
"They're trying to make up for lack of business by cutting their currency," he said. "It's no good. They can't do that. That's not, like, playing on a level playing field."
The yuan has tumbled 6 percent over the past three months -- making it the worst performer in Asia. In response, officials have taken actions to give them better control over the exchange rate. A reserve requirement that makes shorting the yuan costlier has also been reintroduced. The currency rebounded 1.4 percent since hitting the lowest since January 2017 earlier this month.
China has said it won't use competitive currency devaluation or the foreign exchange rate as a tool to cope with trade frictions.
"The yuan's exchange rate is decided by the market," Li Bo, director of the People's Bank of China's monetary policy department, told reporters in Beijing earlier this month. He said the currency has more flexibility this year and the central bank is confident of keeping the rate "basically stable at a reasonable equilibrium level."
The U.S. hasn't officially accused another country of currency manipulation since 1994. Under guidelines established in 2016, the finding is based on whether countries meet three criteria for the designation: a minimum $20 billion trade surplus with the United States, a current account surplus in excess of 3 percent of GDP, and repeated interventions in currency markets.
Trump said he had "delayed" both imposing tariffs against China and declaring it a currency manipulator "because I wanted to get as much help as they could give us with respect to North Korea."
"But there came a time when I couldn't delay it any more," he said. "It's too much money that they drain out of our country."