Three's a Crowd for Trump in North Korea Talks
Donald Trump ignored the risks of meeting North Korean leader Kim Jong Un without insisting on a clear commitment to give up the regime's nuclear weapons. Less than three months later, he's paying the price.
The U.S. president expressed new doubts yesterday about his talks with Kim, blaming "tremendous pressure" from Beijing for stalling talks. Trump's contention is that his escalating trade war with China is causing President Xi Jinping to make mischief by letting more cash and fuel flow to his sanctions-squeezed neighbor.
But the problems run deeper, as David Tweed reports. Kim has agreed to little since securing his long-coveted meeting with the U.S. president and making an ambiguous pledge of "complete denuclearization." After weeks of talks, both sides are still disputing what they agreed to and what comes next. North Korea is accusing the U.S. of "double-dealing attitudes" and returning to "gunboat diplomacy."
The risk, as Trump pulls Xi into the mix, is that his disputes with China and North Korea converge. Trump relied on China's help to pressure Kim to come to the bargaining table. Now, he might have to grapple with both at the same time.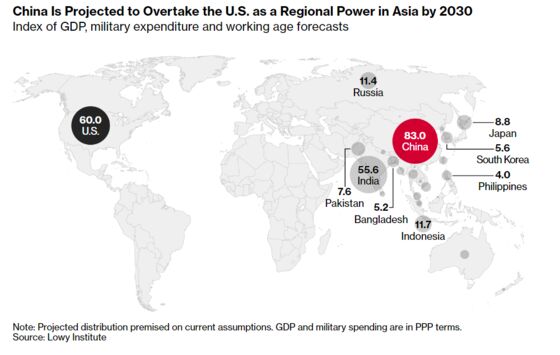 The Clinton playbook | Whether confronted by a former aide's tell-all book or a federal investigation, Trump is mimicking the defense strategy deployed by the Clinton White House: deny, attack, polarize. Shannon Pettypiece takes a closer look following Trump's announcement that White House Counsel Don McGahn will leave the administration this fall once the Senate votes on Supreme Court nominee Brett Kavanaugh. Jennifer Jacobs has the scoop on who might replace McGahn.
French patience | While known abroad for his soaring speeches and grand vision, at home President Emmanuel Macron's reform program has yet to bear fruit. Economic growth is slowing and joblessness remains stubbornly high, prompting a slump in his approval ratings. French Labor Minister Muriel Penicaud appealed to businesses and workers to give the overhauls time to take effect, saying in a Bloomberg interview that the impact of the radical changes could take two years.
Iran talks | With the Iran nuclear deal on the ropes, European Union foreign ministers meet in Vienna today to try and salvage what remains after the U.S. withdrawal. It's a tough ask: the U.S. is determined to stop Tehran from meddling in Mideast conflicts, and has threatened to reimpose sanctions. Even Iran's Supreme Leader Ayatollah Ali Khamenei is pessimistic, saying "hope should be abandoned regarding matters such as the nuclear deal."
Migrant crisis | Venezuela's slide toward mass starvation is becoming a continental disaster. With migrants pouring into states across the region, governments are meeting in Colombia, Peru and Ecuador to try to co-ordinate a response. "The migration crisis is putting Venezuela squarely on the table in a way we haven't seen so far," said Geoff Ramsey, an analyst at the Washington Office on Latin America. "It's no longer an internal affair."
Climate of fear | India's government intensified its crackdown on activists and lawyers who've openly criticized Prime Minister Narendra Modi's policies. Police arrested five high-profile dissenters in a coordinated operation, before India's top court stepped in to stop them jailing the activists, who work with marginalized tribal and lower caste communities. The move comes amid concerns about rising nationalism ahead of general elections next year.
Talks to update the trade deal among the U.S., Canada and Mexico are edging ahead with signs of optimism from Trump and other key figures before tomorrow's U.S.-imposed deadline.
And finally...Google Maps briefly jumped the gun yesterday, when a feature that allows users to "contribute their local knowledge" briefly resulted in the Russell Senate Office Building, across from the Capitol, coming up on the search engine's map as the "McCain Senate Office Building." Senator John McCain, the 2008 Republican presidential nominee and a Vietnam War hero, died Saturday, and Senate Democratic Leader Chuck Schumer has proposed renaming the office building in his honor.