Slower China Economy? Not for Clothes-Mad Shoppers Buying More
(Bloomberg) -- If China's economy is slowing, it's sparing shoppers of apparel and shoes for now, judging by prices of some raw materials.
Take polyester, the ubiquitous yarn used to make synthetic fabrics found in everything from Adidas shoes to H&M dresses and Under Armour leggings. Prices in China have risen this year to the highest level since at least 2014, official statistics show. The main reason is the "somewhat unexpected" garment-consumption growth in the world's most populous nation, according to Salmon Aidan Lee, a consultant at Wood Mackenzie Ltd. in Singapore.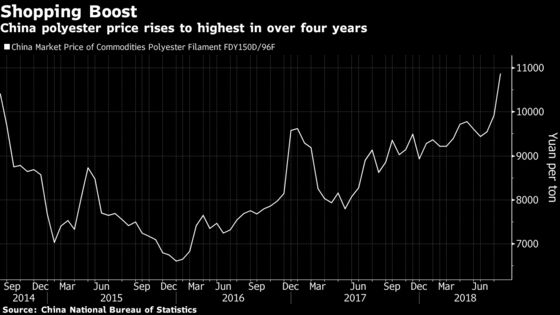 China's consumer confidence index reached the highest level in more than two decades in February, according to the statistics bureau. Apparel companies that sell their products in the nation are seeing shoppers flocking to buy their merchandise this year and sales are strong, said Catherine Lim, a consumer analyst at Bloomberg Intelligence in Singapore.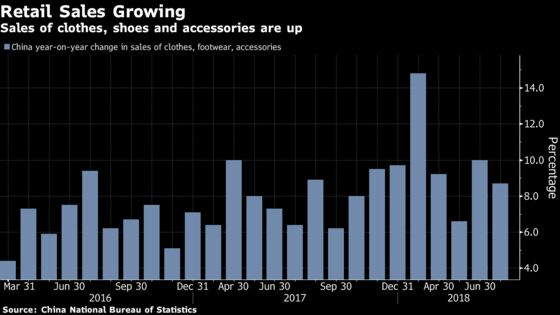 The earliest indicators for China's economy show that the pace of expansion slowed for a fourth month in August, highlighting the pressure for the government to push through pro-growth policies. While growth in demand could potentially slow due to uncertainty over the economy and equities market, one thing is clear --- shoppers are still purchasing their favorite clothes.
"If you're just looking at apparel and shoes, these are very basic items," said Lim. "Consumption demand is basically still rising and so far July and August look good. Even if there is a slowdown, it's not going to be severe. Of course, you can't expect demand to grow hypothetically 20 percent year-on-year, but people still need to use them."
Also read: Asia Paraxylene Prices Soar as China's Trash Ban Boosts Demand