Slide in Euro-Area Economic Confidence Poses Risk to Growth
(Bloomberg) -- Euro-area economic confidence continued its slide in August as risks from trade tensions to politics weigh on momentum.
The European Commission's index of household and business sentiment fell for an eighth month to the lowest in a year. Unemployment concerns led to a deteriorating mood among consumers, while confidence also weakened among services providers and manufacturers. Optimism declined in all of the region's four largest economies.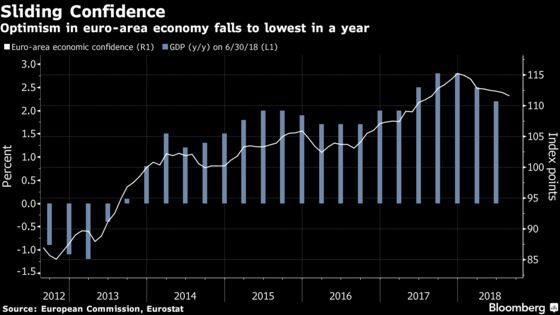 The euro-area economy remains delicately poised as the European Central Bank prepares to wind down its extraordinary monetary stimulus. While policy makers have described the currency bloc's growth as solid and broad-based, it's lost momentum since the start of the year, core inflation remains subdued and uncertainty remains heightened from the rise in protectionism.
| Euro Area | Actual | Survey | Prior |
| --- | --- | --- | --- |
| Economic Sentiment | 111.6 | 111.9 | 112.1 |
| Industry | 5.5 | 5.5 | 5.8 |
| Services | 14.7 | 15.2 | 15.3 |
| Consumer | -1.9 | -1.9 | -0.5 |
| Business Climate | 1.22 | 1.26 | 1.30 (revised from 1.29) |
The Commission said the "marked decrease" in consumer confidence was mainly due to a deterioration in the assessment of future unemployment. In July, joblessness probably declined to 8.2 percent, the lowest level in almost 10 years, according to a separate survey before a report on Friday.
Manufacturers were more pessimistic about their current order books and stocks of finished products. Services provides predict demand will slide "significantly," according to the Commission.
Renewed political instability also poses a risk. Italian Deputy Prime Minister Luigi Di Maio on Wednesday denied a report that Italy is asking the ECB to launch a new round of quantitative easing, though concerns about the government's new budget plans have pushed up bond yields.
Data on Friday will probably show consumer prices rose an annual 2.1 percent in August, according to a Bloomberg survey. Although that's higher than the ECB's inflation goal of just under 2 percent, a gauge that strips out volatile elements such as energy and food is expected to remain stuck at 1.1 percent.