French Minister Calls for Patience on Impact of Macron Reforms
(Bloomberg) -- French Labor Minister Muriel Penicaud appealed to businesses and workers to give President Emmanuel Macron's various labor overhauls time to take effect and lower unemployment.
Penicaud, whose been on the front lines of Macron's reform drive, said the full impact of the radical changes could take two years. Her call for patience comes after economic growth slowed in the first half of the year and as the jobless rate stands at 9.1 percent, barely changed since Macron took office in May 2017.
In an interview with Bloomberg Television at the annual conference of France's biggest business lobby Medef, Penicaud said the overhauls are all needed as part of a "systemic view" to beat unemployment. There's more coming, and she'll begin talks with labor union leaders in the coming days on changes to France's generous unemployment insurance system, with the aim of encouraging people to return to work rather than living off benefits.
"You cannot repair after 20 years of difficulties in one year," Penicaud said. "We need to go on and on and continue the reform agenda."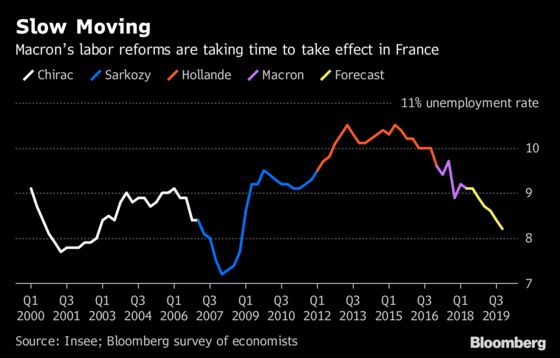 Some business leaders have voiced skepticism in recent days about the government's commitment to pro-business measures after Finance Minister Bruno Le Maire said a planned cut to payroll taxes would be delayed to reduce the budget deficit by 2 billion euros ($2.3 billion). Medef President Geoffroy Roux de Bezieux said Tuesday that the delay sends a "very bad signal."
"We prefer proof of love to declarations of love," he said in his first major speech as the head of the business lobby.
Penicaud highlighted that the government would continue to deliver on its promises and denied it was the end of a "honeymoon" between Macron and business.
"In a couple, what is important is to have a sustainable couple," Penicaud said.
She was sanguine about the recent data showing France has lost some of the economic momentum seen in the months after Macron's election. Judgments should not be based on one quarter alone, she said, adding she expects the rise in foreign and domestic investment to continue.
"I am confident that now we have a new cycle on investment," Penicaud said.