Britons' Essential Spending Eats Up 80% of Incomes
(Bloomberg) -- Essential spending gobbles up the lion's share of Britons' monthly income, leaving many with barely any money for other things.
Forty-one percent of people have less than 6.60 pounds ($8.50) to spend daily after paying their bills, according to a poll from Nationwide Building Society. Spending on things like mortgages, groceries and fuel has risen 6 percent over the past year and now consumes about 80 percent of the average U.K. salary.
The report highlights the squeeze on U.K. shoppers since the vote to leave the European Union in 2016 drove down the value of the pound, causing inflation to accelerate. The Bank of England raised interest rates to the highest since 2009 on Aug. 2 to keep prices in check.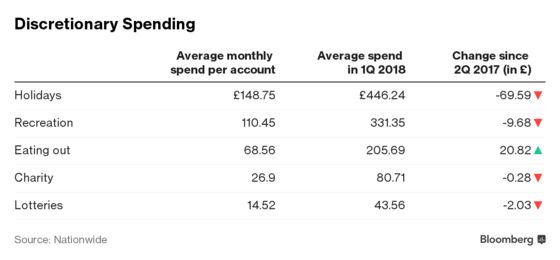 British consumer confidence also edged down in August, according to a separate report by YouGov and the Centre for Economics and Business Research. While showing that more people are confident than unconfident, the index is still far below the levels preceding the Brexit vote.
Optimism has been hit by the weakening housing market, and there's no end in sight for the slowdown. Consumer expectations for house values over the next 12 months hit the lowest point since July 2017, according to the CEBR.
"The housing market is set to remain subdued, at least in the immediate future," said Nina Skero, head of macroeconomics at the CEBR. "This will be particularly problematic for the economy if it encourages consumers to tighten the purse strings and pull back on spending."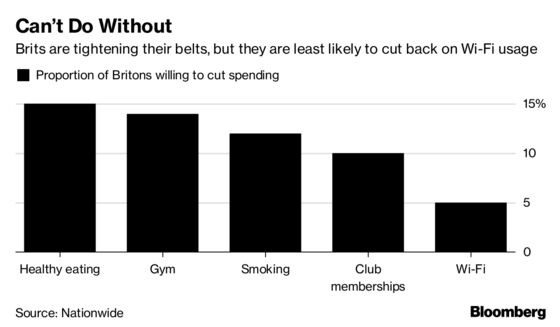 For now, Nationwide said that restaurants are bucking the trend. Restaurant and pub spending was up 10 percent year-on-year as England reached the semi-finals of the soccer World Cup.
Britons are least likely to cut back on Wi-Fi in the squeeze, followed by club memberships, the survey showed.