Britons Are Obsessed With House Prices and New Figures Show Why
(Bloomberg) -- Discussion of house prices has long been a national pastime in Britain, and it's little wonder.
Land accounted for 51 percent of the U.K.'s net worth in 2016, far more than in any other measured Group of Seven country, the Office for National Statistics said on Wednesday. In Germany, the figure was as low as 26 percent and the G-7 average excluding the U.S. and Italy was 39 percent.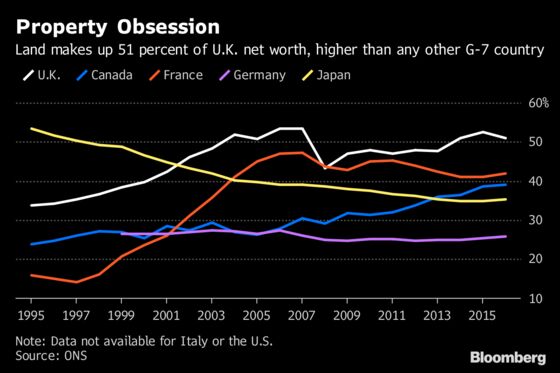 Around three quarters of U.K. land is owned by households after more than two decades of booming house prices. The financial crisis delivered only a temporary setback, as the record-low borrowing costs deployed in its aftermath sent values beyond the reach of many first-time buyers.
Continued increases in the value of housing and land saw the U.K.'s net worth rise by almost 500 billion pounds ($645 billion) to 10.2 trillion pounds in 2017. That's the equivalent of 155,000 pounds per person, the ONS said. While non-financial assets surged, the value of financial assets and liabilities declined.