Portugal's Ferreira Is Said Not to Apply to Be ECB Bank Watchdog
(Bloomberg) -- Bank of Portugal Vice Governor Elisa Ferreira hasn't applied to be the euro area's next top bank supervisor, according to a person familiar with the matter.
Ferreira made her decision despite some countries saying they'd support her candidacy to be the chair of the European Central Bank's Single Supervisory Mechanism, the person said, asking not to be named as the information is confidential. She's less than halfway through her term in office, and didn't want to go abroad now after working outside Portugal for many years, the person said.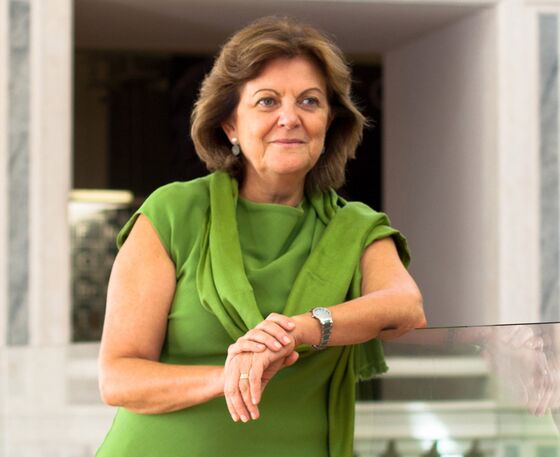 The Portuguese central bank declined to comment.
Ireland's finance ministry confirmed last week that the Sharon Donnery, deputy governor of the Irish central bank, has applied for the job of overseeing the euro area's banking system. She's seen as the frontrunner for the Frankfurt-based post, which will start on Jan. 1 after the five-year term of France's Daniele Nouy ends.
The SSM's tasks including pushing European banks to reduce the pile of loans that went bad during an extended economic downturn. It's also preparing to deal with an influx of big investment banks following the U.K.'s decision to leave the European Union.
Italy, the euro area's third-largest economy -- and biggest holder of bad loans -- is also thought to be chasing the post. Andrea Enria has led the European Banking Authority, which drafts technical standards for regulating lenders, since 2011. Ignazio Angeloni has been at the ECB since its creation two decades ago. Italy's SSM board member, Fabio Panetta, has been a vocal critic of the ECB's treatment of the country's banks.
Ferreira joined the board of Portugal's central bank in 2016 and became vice governor last year. She also spent more than a decade as a Socialist member of the European Parliament, where she sat on the economic and monetary affairs committee.