Central Banks Hear Warnings on Trade, Low Trust at Jackson Hole
(Bloomberg) -- A discussion of competition and "superstar" firms at an exclusive economic policy conference in Jackson Hole, Wyoming, threw up a spirited defense of global trade, while central bankers were also warned of the low level of trust they enjoy among the public.
"We should think twice about undermining the discipline of openness" and the competition that's created by global trade, said Agustin Carstens, head of the Bank for International Settlements, during Saturday's session of the annual meeting hosted by the Kansas City Fed in Grand Teton National Park.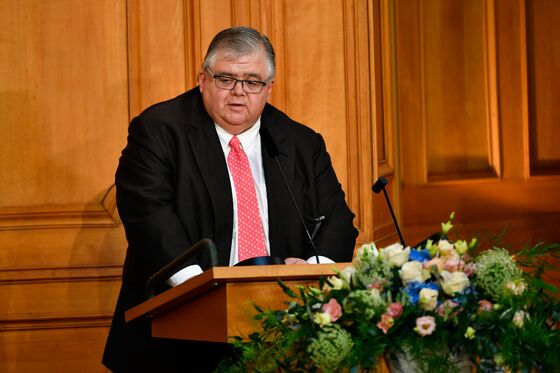 Carstens, a former governor of the Bank of Mexico, also specifically warned that revoking the North American Free Trade Agreement between the U.S., Mexico and Canada "would only create losers," with higher import costs and lost export opportunities overwhelming any resulting wage gains. It could also lead to a global currency war, he said.
Jackson Hole delegates debated evidence that economic concentration -- best illustrated by companies like Amazon.com Inc., Alphabet Inc.'s Google, and Apple Inc. -- was eroding competition and hurting workers, consumers and overall economic growth.
Part of the fallout of superstar firms is the resentment of economic elites among workers not employed by dynamic, growing companies, said Raghuram Rajan, a University of Chicago professor and former governor of the Reserve Bank of India. He added that central bankers were the "quintessential elite."
"They talk about global effects and don't talk about local mainstream effects," he said. "They're over-educated and talk in a language no one else can understand."
That remoteness, combined with their role in the rescue of big banks in the global financial crisis, has led to a "tremendous loss of trust" in central bankers among the public, he said.