Turkey Needs to Get Cracking to Avoid a Meltdown: Economy Week Ahead
(Bloomberg) -- The devil makes work for idle traders – a paucity of central bank meetings and major data releases means there will be plenty of time for investors to think about emerging markets next week. And so they should. Turkey's economy is threatening a meltdown, Russia could be slammed with fresh sanctions and South Africa has found itself in President Donald Trump's crosshairs. Not forgetting that the trade skirmish between the U.S. and China will rumble on, too.
Turkey is back to work this week after an extended national holiday. Officials will need to get cracking on an urgent task – restoring confidence. The economy has been running hot for several years, inflation has got out of control and there has been too much borrowing in foreign currency. The Fed's tightening cycle hasn't helped. But what really lit the fuse was President Recep Tayyip Erdogan's heavy-handed management of the economy.
Confidence has vaporized, and policymakers have narrowed the menu of options from which to choose. The main action so far has come from the central bank, which has engaged in stealth tightening, possibly to avoid drawing criticism from  Erdogan. Experience of past crises suggests that this will not be enough to stem the crisis.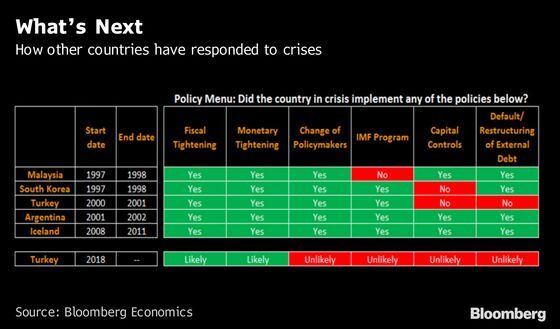 Whether it's Fed policy or Turkey reminding investors that currency crises still happen, many emerging economies have been tarred with the same brush. Russia, for example, saw the ruble dive in tandem with the lira, but other countries look rather more vulnerable on simple macro fundamentals. 
Russia has problems the metrics don't capture. The U.S. is weighing its options for tighter sanctions – an announcement may come as early as Monday – and sentiment remains fragile. Details have been slow to arrive, with saber-rattling in Congress filling the silence. Another slide in the exchange rate prompted the central bank to suspend foreign-currency purchases, to avoid making things worse. 
South Africa is another country whose fundamentals may not justify the market response. It scores poorly on some gauges, but the central bank has a good deal more credibility than its counterpart in Turkey and the election of Cyril Ramaphosa to the presidency has boosted investor sentiment.
Like Russia, South Africa has caught the attention of U.S. policymakers. Trump has instructed the state department to investigate proposed changes to the constitution involving the redistribution of land – white farmers own the bulk of it. The spat with Turkey over the release of an American pastor suggests investors could be right to worry about South Africa's prospects. Trump has already demonstrated a willingness to deploy economic weaponry in pursuit of foreign policy objectives.
While the economic news flow is likely to be dominated by political and market developments, there are a handful of economic events worth watching out for next week. Here's a rundown of those and Bloomberg Economics' take on them.
For a more detailed look, read Bloomberg Economics' comprehensive previews of the week ahead for the U.S., EMEA, Asia and Latin America.
Personal income and spending data for July will be key to watch as an important source input into the tabulation of third-quarter gross domestic product. Bloomberg Economics expects a moderation in consumer spending in the current quarter to confirm that second-quarter growth near 4 percent was unsustainable. The latest set of FOMC minutes supports this view, as policy makers partially attributed the stellar second-quarter economic growth to transitory factors. – Yelena Shulyatyeva
The official manufacturing PMI may point to stabilization in growth momentum after a mild slowdown in the previous two months. Early indicators are largely positive. Industrial profits are also due. – Chang Shu
Second quarter GDP growth should be positive, but below 1.2 percent growth in the first quarter. The truck drivers strike in May, increasing uncertainty ahead of the elections in October and tighter external financing conditions should be a drag. A higher number of working days and lower interest rates than in the year ago period should provide support. – Felipe Hernandez
India's growth likely slowed in the first quarter of the fiscal year that started in April, buffeted by headwinds ranging from increases in oil prices, borrowing costs and inflation, to fiscal tightening. That would mean the output gap widened – exerting downward pressure on core inflation. A slowdown would add to reasons for the Reserve Bank of India to keep rates on a long pause. – Abhishek Gupta
Industrial production likely extended a decline in July, weighed down by temporary disruptions associated with stormy weather in Western Japan. Jobless data are likely to underscore continued tightness in the labor market – a positive for reflation. – Yuki Masujima
A flurry of CPI readings should show higher annual inflation in Germany was offset by weaker price gains in Italy in August, leaving the euro-area rate unchanged. The bigger picture is one of an economy slowly taking up the last remaining slack in the labor market, leaving the ECB on track to bring asset purchases to a close this year. – Jamie Murray
The Bank of Korea is likely to keep its benchmark interest rate unchanged at 1.50 percent at its Aug. 31 meeting. An anemic labor market, below-target inflation and continued risks to trade all point to the need for sustained support for the economy. – Justin Jimenez