National Team, Debt Binge, Earnings: A Week in China's Markets
(Bloomberg) -- State funds support the stock market, the yuan does very little, and a local-government debt binge gets analysts worried about where the liquidity will come from. Here's a roundup of what we've been talking about in China markets this week.
National team
Stocks briefly slipped below their post-crash low from 2016 before state funds began buying stocks on Aug. 20 -- the first time in months we've confirmed this kind of intervention. That triggered a two-day rebound and got the market thinking about whether the Beijing put can finally place a floor on this year's $2.5 trillion equity rout. Traders onshore don't seem convinced by this week's gains: turnover dropped to the lowest in four years.
Education-linked stocks took another hit on renewed concerns over tighter regulation. A document in circulation was seen to spark the losses, though Jefferies says it added nothing new to last week's draft legislation to amend rules governing the private education sector.
Read more:
Last week's education selloff
Xiaomi Corp. reported its maiden results as a Hong Kong-listed company. The stock rallied 7.2 percent Thursday before erasing all gains to close lower, in a sign that traders are still very much in two minds about its business model. While sales growth numbers are impressive (as are its ambitions to expand overseas), the unprofitable company isn't squeezing much money from cheap smartphones.
AAC Technologies Holdings Inc. delivered yet another shocker for Chinese tech. Profit missed estimates by a mile and the shares slumped as much as 11 percent before reversing course, with traders telling us that some short sellers were covering their positions. It was also a big week for insurers: AIA Group Ltd.'s report failed to wow and Ping An Insurance (Group) Co. said its shares -- which had their best week since February -- are undervalued.
Read more:
AAC shares whipsaw
Ping An wants a tech valuation 
Xiaomi's first report
Yuan steady, Hong Kong intervenes
The yuan set a five-day winning streak on Wednesday, its longest in a year, supported by a stronger fixing rate from the central bank. Officials vowed to keep the currency stable and said they won't use it as a weapon in the trade spat with the U.S. However, news of no major progress in another round of Sino-U.S. tariff negotiations ensured the currency was on track for its smallest weekly move since March.
Hong Kong was at it again defending the peg, buying nearly HK$1.8 billion as city's currency touched the weak end of its permitted trading band. While the strengthening U.S. dollar is making this an expensive process, people are more interested in what may happen to Hong Kong's borrowing costs if the Federal Reserve raises rates next month.
Debt binge
There's a flood of new local government bonds on the market. Authorities need more funds to act on Beijing's push to boost infrastructure spending, one of the key stimulus plans outlined recently in a bid to boost China's slowing economy. Analysts are warning that the pick up in issuance may further dry up liquidity and force the People's Bank of China to take more action.
At least concerns over corporate defaults are easing. China's short-term junk bond yields retreated, with the premium over higher rated notes on track to narrow the most since November 2016 in August.
Read more:
Default risks are easing, for now 
American investors made a $513 million bet that China's largest stocks will rebound, their biggest since 2012. It was a pretty good place to be in the past few days: the FTSE China A50 Index had its best week since May 2017.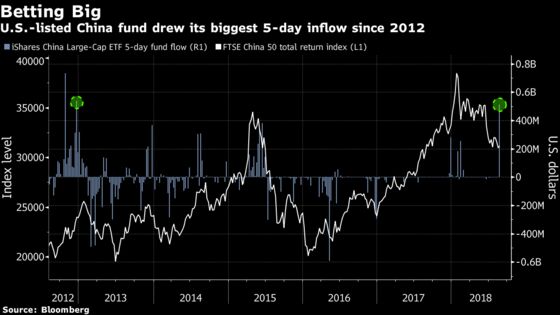 Here's what else caught our eye.