ECB Is Said to Prefer Woman to Head Powerful Banking Watchdog
(Bloomberg) -- Candidates to become Europe's next top banking watchdog could find that for all their competence, experience and political support, the trump card might be gender.
Applications close on Friday to lead the European Central Bank's supervisory arm -- and the ECB would prefer to choose a woman, according to three euro-area officials with knowledge of the matter. The people asked not to be named as the process is confidential until a shortlist is published. An ECB spokeswoman declined to comment.
The Single Supervisory Mechanism is rare among European institutions because it's already led by two women. It's also unusual because the ECB's Governing Council nominates the chair, currently France's Daniele Nouy, whereas most European Union roles are appointed by national governments.
That means the ECB, keen to address its gender imbalance, is likely to lean toward female candidates who meet the job's credentials. Nouy's term ends on Dec. 31 and potential successors include Ireland's Sharon Donnery and Portugal's Elisa Ferreira.
Read more

A Euro-Zone Watchdog Just Raised Staff by 10% to Handle Nordea 
The European Parliament, which will vote on the nominee, has long criticized the dominance of men at the central bank. The 25-member Governing Council has just two women. Only this year the ECB vice presidency went to Spain's Luis de Guindos, and both Spain and Finland named male governors. Executive Board member Benoit Coeure has called on leaders to take "more resolute action" to appoint women.
Moreover, SSM Vice Chair Sabine Lautenschlaeger's terms ends in February, and her successor must be chosen from among her ECB Executive Board colleagues -- who are all men. While she has the credentials to step up to Nouy's post before then, she's ineligible unless she quits the Governing Council.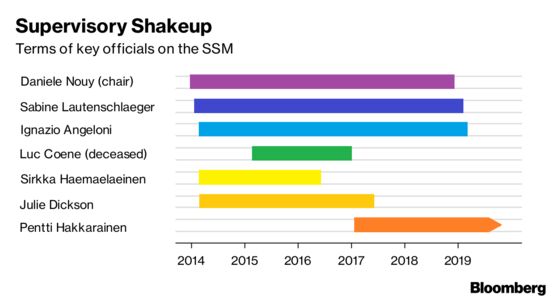 "Given the emphasis that the ECB has been placing on improving gender diversity in recent years, I believe -- and strongly hope -- that it will be an important variable in the decision," said Mascia Bedendo, a professor of finance at Audencia Business School in Nantes, France.
Here's a look at potential candidates to take on the task of watching over one of the world's biggest banking systems, according to conversations with about a dozen current and former euro-area officials.
The first female deputy governor at the Irish central bank is seen as a favorite by officials in at least two countries. Donnery leads the ECB's taskforce on non-performing loans, a key problem for euro-area banks, and Nouy has praised her "very strong" supervisory background.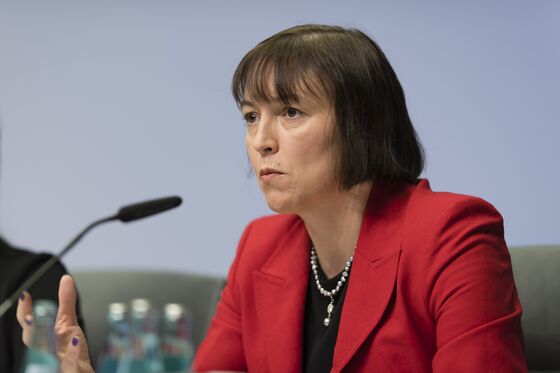 "She's got what it takes," said Jonathan McMahon, a former director at the Irish central bank. "She's resilient, tough and well-prepared."
Some ECB colleagues were disappointed that Donnery wasn't tougher on bad credit, and she was surprised by the political pushback, according to people familiar with the matter. Back home, Irish banks are still grappling with NPLs a decade on from the financial crisis, with soured debts making up about 14 percent of their loanbooks. About 7 percent of owner-occupier mortgages are more than 90 days in arrears.
To complicate matters, Donnery's boss, Governor Philip Lane, may seek to join the ECB's Executive Board when chief economist Peter Praet steps down in May. Giving a small country like Ireland two big ECB posts might not fly.
People familiar with the government's thinking have cast doubt on a report that the finance ministry strongly backs Donnery's candidacy, noting that it has less of a role in chasing this job than a position on the ECB's Executive Board.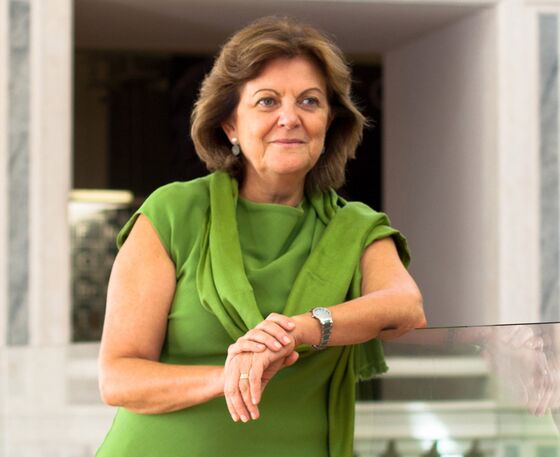 Ferreira joined the board of Portugal's central bank in 2016 and became vice governor last year. She also spent more than a decade as a Socialist member of the European Parliament, where she sat on the economic and monetary affairs committee, and was parliament's chief negotiator on the institution set up to handle failed banks. That gives her in-depth knowledge of European rules designed to keep taxpayers off the hook for losses at lenders.
Ferreira could be a palatable candidate for southern European countries concerned that the ECB might endanger their banks by pushing too quickly to clean up bad loans. That could make her difficult to accept for the hawks though, and while she's already on the ECB's supervisory board, she doesn't have as much experience as other potential candidates. Another count against her is that Portugal holds a powerful EU post with Mario Centeno heading the group of euro-area finance ministers.
The strongest potential candidates from the euro area's third-largest economy -- and biggest holder of bad loans -- are all men.
Andrea Enria has led the European Banking Authority, which drafts technical standards for regulating lenders, since 2011. His links to the Basel Committee on Banking Supervision, which brings together regulators from across the globe, give him a useful international network.
Ignazio Angeloni has been at the ECB since its creation two decades ago, and jokes that Italians no longer see him as a countryman. Fellow supervisors view him as ECB President Mario Draghi's man on the board. He outlined his "strategic directions" for banking supervision in a speech in May, and in an interview published the day before SSM applications closed said he's worried about the impact of Italy's recent bond-market volatility on banks.
Italy's SSM board member, Fabio Panetta, has been a vocal critic of the ECB's treatment of the country's banks. The Italian Finance Ministry favors a different candidate, according to a person familiar with the matter.
Other names mentioned include Finland's Pentti Hakkarainen, who is one of the ECB's appointees to the SSM board, and Jan Sijbrand, who retired from the board and the Dutch central bank this year. Again, both are men.
One outcome the ECB is likely to want to avoid is to publish a shortlist dominated by women, but then pick a man. The U.K. government was criticized for doing just that this year when it named a new Bank of England policy maker.
"This job is so important, you really want the best candidate to get it and that could definitely be a woman," said Hans-Peter Burghof, a professor of banking at the University of Hohenheim in Stuttgart. "But there are maybe still few such women in finance with these qualifications."