Merkel Focused on Top EU Job Over ECB Role, Handelsblatt Says
(Bloomberg) -- Angela Merkel is prioritizing securing the European Commission presidency for Germany instead of the top job at the European Central Bank, according to Handelsblatt.
Such a move would undermine the chances of Bundesbank President Jens Weidmann succeeding Mario Draghi, whose term ends in October 2019. Weidmann, 50, has been seen as the frontrunner by many economists, in part because Germany has never held the presidency despite being the region's largest economy.
The German chancellor discussed the ECB with Weidmann in a recent confidential meeting and the Bundesbank chief said he'd be willing to stand if nominated, according to Handelsblatt, which cited unidentified government officials. Bloomberg reported in March that Merkel was willing to trade in any perceived German right to the position in favor of concessions elsewhere on broader European integration.
The latest revelation that Merkel could forgo the ECB presidency for another political prize is another twist in a tale of national horse trading for senior positions of policy making within the euro zone and the European Union. It also potentially leaves wide open the race to succeed Draghi.
If Weidmann doesn't get the job, it will be another missed opportunity for Germany. Draghi only clinched the top job after former Bundesbank President Axel Weber unexpectedly stepped down, unhappy at the central bank's crisis purchases of sovereign bonds.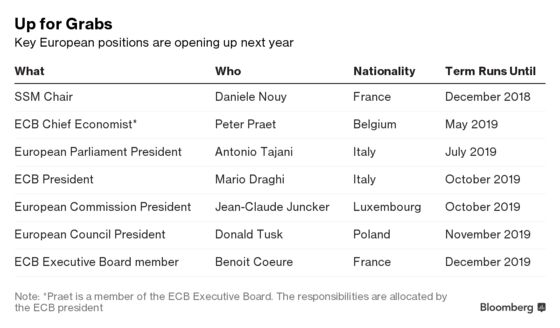 Several top jobs, including those of EU, European Commission and ECB president, become available next year. The German government believes that winning the commission role is more promising as Weidmann, a longstanding critic of ultra-loose policy, would face opposition from some southern European nations, Handelsblatt said. Going for a different German candidate for the ECB would indicate that Merkel was allowing other countries to dictate her decisions, according to the report.
Potential German candidates for commission president include Economy Minister Peter Altmaier, European People's Party parliamentary group chairman Manfred Weber and Defense Minister Ursula von der Leyen, Handelsblatt said.
A German government spokesman and the Bundesbank declined to comment when contacted by Bloomberg.
The Handelsblatt report comes just before Friday's deadline for applications for the Single Supervisory Mechanism. That's significant as that appointment is seen as a precursor for the ECB presidency: Whichever country takes over next January is probably out of the running for the top ECB job when Draghi leaves.