Japan's Steady July Inflation Offers Little Joy for BOJ
(Bloomberg) -- Japanese inflation failed to deliver an expected uptick in July, underscoring the persistent weakness in consumer prices that has forced the Bank of Japan to take an increasingly longer-term view of its mission to achieve 2 percent inflation.
Gains in consumer prices remain less than halfway to the central bank's inflation target more than five years into its large-scale easing program aimed at sparking stable price growth.
Costlier energy is still propping up the consumer price index, but its effect, alongside the impact of hot weather, failed to deliver an expected acceleration of price gains. Falling mobile phone charges dragged on the price index and are likely to pull it lower looking ahead, economists said, flagging government pressure on local carriers to make cell phone use cheaper.
The latest price data comes less than a month after the central bank adjusted policy to soften the side effects of its easing program, given that the target is still far from sight. The BOJ also lowered its price forecasts and promised to keep extremely low interest rates in place for an extended period of time, giving little impression that major progress on inflation is on the horizon.
"Looking ahead there's a high possibility that the inflation forecasts will be downgraded again," said Yoshiki Shinke, chief economist at Dai-ichi Life Research Institute, casting doubt on the sustainability of the projections made just last month.
Core consumer prices, which exclude fresh food, rose 0.8 percent in July from a year earlier (forecast 0.9 percent), matching the previous month's gain.
Prices minus fresh food and energy climbed 0.3 percent (forecast 0.3 percent), up from 0.2 percent in June.
Overall prices increased 0.9 percent (forecast 1 percent), compared with 0.7 percent the previous month.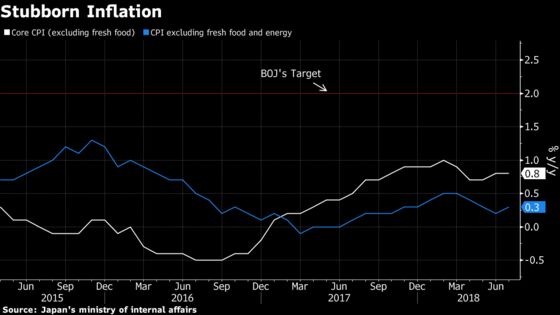 What our economist says ...
Inflation came in below Bloomberg Economics' expectations, and an early indicator shows underlying price pressures remain unchanged in August. "Even so, our view is that the basic drivers of inflation remain intact -- the economy is running above potential, wage growth is rising, and the yen is weak."

--Yuki Masujima, senior economist, Bloomberg Economics

For more, see our JAPAN REACT