Euro-Area Growth Stays Strong as ECB Plans to Ease Stimulus
(Bloomberg) -- The euro-area economy showed it's still robust as the European Central Bank prepares to wind down its bond- purchase program.
IHS Markit's composite index of manufacturing and services increased to 54.4 in August from 54.3. Economists surveyed by Bloomberg had predicted a reading of 54.5.
Overall third-quarter growth could match the second quarter's 0.4 percent, and indicators of current activity, employment and prices were all elevated, the report showed.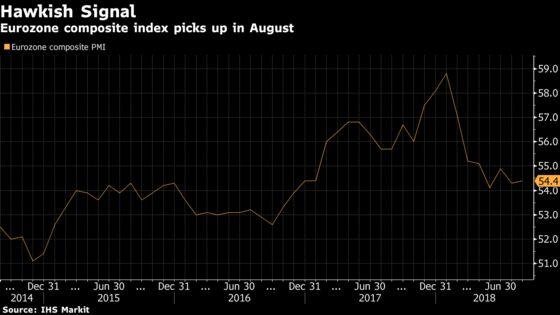 Still, the current rate of expansion is one of the weakest over the past year and a half, Markit said, and firms' expectations for future growth slipped to the lowest for almost two years.
"The August survey sends a hawkish signal to policymakers," said Chris Williamson, an economist at IHS Markit. "But the forward-looking indicators suggest the business mood could cool as summer passes. The risks seem tilted to the downside."
The ECB has cited the region's "solid and broad-based" expansion as a reason to continue with the plan to end asset purchases in December and lay the ground for a possible interest-rate hike in late 2019.
At the same time President Mario Draghi has noted that global uncertainties are "prominent." Manufacturing would be the most susceptible to any trade-led slowdown, Markit said.
The ECB will publish new economic projections for the euro zone on Sept. 13 after officials meet to set monetary policy.