Draghi Succession Wide Open as Merkel Loses Interest in ECB
(Bloomberg) -- The race to succeed Mario Draghi is more open than previously thought after reports that Germany won't push for Jens Weidmann to become the next European Central Bank president.
While Chancellor Angela Merkel said on Thursday that her government hasn't yet reached a position on upcoming European policy posts, she did say the discussion is getting under way. If the hawkish Bundesbank chief -- long seen as the frontrunner -- is out of the race, it leaves no clear favorite to be the next chief of the Frankfurt-based ECB.
Even without a German at the top though, it's far from clear that the institution will change its planned policy course.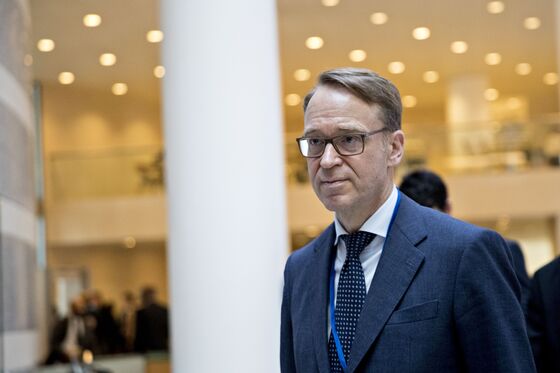 To begin with, Draghi has already put monetary policy on a exit path from extraordinary stimulus, setting the stage for gradual interest-rate increases starting in the second half of next year.
Most importantly, while ECB presidents play a key role when bold action is needed to tackle emergencies -- as Draghi himself repeatedly showed -- in normal times they mostly act to build consensus among the 25 members of the Governing Council.
"That Weidmann's chances were slim is no real surprise to me," said Holger Schmieding, chief economist at Berenberg in London. "This doesn't mean the next president will be significantly less hawkish. The other council members are not people that can be bossed around."
Merkel responded at a news conference in Tbilisi, Georgia, to a question about the reports that she wouldn't back Weidmann, saying only that the discussion about European posts "is slowly starting now."
Weidmann, a vocal critic of too-loose policy, has largely taken a more pragmatic approach in recent months. Still, comments on Thursday showed that he retains a bias to tightening, saying that ending bond purchases in December would be "just a first step toward a necessary normalization."
The German government has long harbored doubts about throwing its full weight behind Weidmann, especially with more than a year to go before negotiations start in earnest and several key European jobs opening soon. That didn't stop economists betting on him as the most likely to replace Draghi in a Bloomberg survey in June.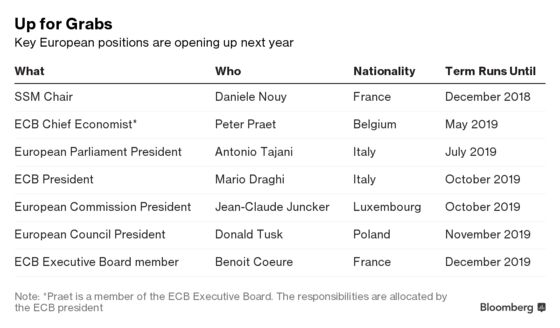 Even so, the decision may be hard to swallow for a German public that has become increasingly impatient with the stimulus Draghi helped introduce. While it may dash hopes in Germany and elsewhere that the ECB will take a more decisive -- or even aggressive -- approach on increasing interest rates, that may never really have been on the table.
"A change of course at the head of the ECB is a distant prospect," Joerg Kraemer, chief economist at Commerzbank in Frankfurt. "We do not expect a real rate-hike cycle."
For markets, the shift in Merkel's priorities could go someway to boosting sentiment for those countries -- Spain, Italy and Portugal -- which are vulnerable once the ECB stops buying bonds at the end of this year.
Italy in particular has said extending QE would help protect the country from financial speculators. The yield on its 10-year bonds fell as much as five basis points to 3.01 percent early on Thursday before rebounding.
"It will support peripheral bonds on the margin as the risk that Weidmann suddenly tightens the grip on the ECB should be smaller," said Arne Lohmann Rasmussen, Danske Bank head of fixed income research. "The risk of a sudden change in policy and rhetoric should be smaller."
If Weidmann is really out of the race, other candidates from Northern Europe could see their chances bolstered.
Former Finnish governor Erkki Liikanen was the distant runner-up in Bloomberg's survey, and his successor Olli Rehn would also be a strong candidate. As the European Commission's top economics official during the sovereign crisis, Rehn has experience of the negotiations needed to create an agreement among euro-area countries.
The ECB job is just one part of a complex chess game that will kick off after EU Parliament elections in May 2019. According to the Handelsblatt report, Merkel wants to secure the European Commission president job for a German.
That could be a more influential role as EU powers look at renewing the bloc's ties as the U.K. leaves and French President Emmanuel Macron pushes for a joint euro-area budget and stronger political and economic integration in the currency bloc. Bank of France Governor Francois Villeroy de Galhau is another potential alternative to Weidmann, though his chances are hampered by the fact that there's already been a Frenchman in the role.
"The choice for the president is not necessarily easier after this but, by default, it is more likely to go to a candidate from France or Finland," said Frederik Ducrozet, an economist at Banque Pictet & Cie in Geneva. "Weidmann or Villeroy or anyone else would have to stick with the mandate. The big question would be what instruments the ECB would favor in the case of a new crisis."