Russia Admits Toll of Sanctions as Market Turmoil Adds Pain
(Bloomberg) -- The stranglehold of U.S. sanctions and a succession of crises across emerging markets are taking a toll on Russia's economy, hurting the currency and fueling outflows of capital, a top government official said.
Updated forecasts to be released next week will show a smaller gain in gross domestic product this year and a weaker ruble than anticipated, with outflows accelerating in the next 12 months, Economy Minister Maxim Oreshkin said Wednesday.
Sanctions are compounding the impact of turmoil in Turkey, Argentina and Brazil, putting the Russian economy on track to grow 1.8 percent in 2018, down from an earlier projection of 1.9 percent, Oreshkin told reporters in Sochi. "All of this is clearly affecting the Russian market," he said.
He said the changes in the official forecast "will be of a largely cosmetic nature," but the shift marks a setback for the government's efforts to revive growth to meet President Vladimir Putin's ambitious targets for boosting living standards.
Speculation is swirling over the shape of the next round of U.S. penalties as U.S. midterm elections approach. American lawmakers are pondering curbs on Russian sovereign debt sales and tougher limits on some of the country's biggest banks as punishment for election meddling.
Thursday, the ruble traded close to its lowest level since 2016, sliding for a fifth day as traders awaited possible penalties over Russia's alleged role in the nerve-agent poisoning of an ex-spy in the U.K.
The current official forecast calls for an average rate of 63.2 rubles per dollar in 2019, about 8 percent stronger than present levels. In June, the central bank raised its forecast for this year's net capital outflow to $30 billion from $19 billion.
The central bank has been adding to the pressure on the ruble in recent days, buying foreign currency to build up reserves under a fiscal rule aimed at insulating the economy from volatility in oil prices. On Tuesday, it bought the equivalent of 20.1 billion rubles ($293 million) of foreign currency, the third straight day of purchases after a six-day suspension from the market when the ruble was sliding.
"I don't rule out that Russia's monetary authorities are hoarding foreign currency, expecting an increase in pressure on the country and a rise in foreign-currency demand," said Vladimir Miklashevsky, a strategist at Danske Bank A/S in Helsinki. "Investors are getting ready for further worsening of the geopolitical situation between Russia and the U.S."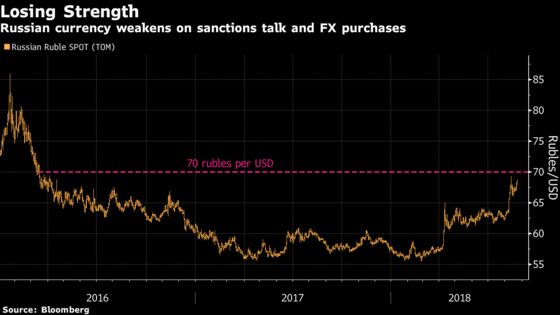 Legislators have called for softening some of the proposed sanctions to limit fallout on international markets. Still, David Hauner, a cross-asset strategist at Bank of America Merrill Lynch, says the risk of sanctions on sovereign debt has been underestimated and traders should brace for a bigger sell-off before the November elections.
Russia's Finance Ministry canceled Wednesday's bond auction for the first time since April, citing heightened volatility.
The ruble weakened 1 percent to 68.7050 against the U.S. currency as of 12:02 a.m. in Moscow, poised for the lowest level since April 2016. "It's not impossible" that the ruble could breach 70 per dollar, according to Inan Demir, an economist at Nomura International Plc in London.
"More rapid progress on the sanctions bill or a renewed deterioration in emerging-market sentiment" could push the Russian currency beyond that level, he said.