Examining Trump's Claim That China's Economy Won't Catch U.S.'s
(Bloomberg) -- President Donald Trump claimed yesterday that China's economy is no longer on a quick path to exceed the U.S. Here are the facts.
Trump said on Tuesday that "when I came, we were heading in a certain direction that was going to allow China to be bigger than us in a very short period of time. That's not going to happen anymore."
In fact, even before Trump became president, the gap between the two nations was only narrowing gradually. By 2022, the International Monetary Fund still sees the U.S. economy as more than $5 trillion bigger than China.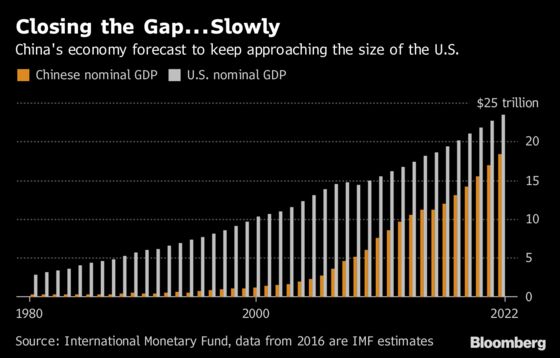 In addition, there's no sign that the current trade dispute has affected the overall trajectory of either nation's growth, yet. The trade dispute with the U.S. will have some effect on China's economy but so far, it's only forecast to cut less than half a percentage point off of China's growth this year and next.
Lost in U.S. GDP Week Is IMF Reminder China Stalking No. 1 Spot
That would delay when China exceeds the U.S. but not by much. And if both nations maintain their current growth trajectory, China will become the world's biggest economy in about a decade.
Indeed, the only thing recently that has affected that is China's own actions - the 2015 currency devaluation lowered the size of its gross domestic product in dollar terms, widening the gap in 2016.