Are Greek Leftists Really 'Stepping Up' the Privatization Drive?
(Bloomberg) -- When a European Commission economist told reporters in 2011 that he expected Greece to raise as much as 50 billion euros ($57.1 billion) from asset sales through 2015, the local outcry was so fierce that bailout inspectors never held another press conference in the country.
Now, with Greece emerged from its third and final bailout, talk of selling off assets is no longer taboo, and the country is promising to complete all its proposed privatization projects.
The leftist Syriza government, once famous for dragging its heels on moving assets away from state control, is now interested in "stepping up the privatization drive," Grigoris Stergioulis, chairman of Enterprise Greece, the nation's trade and investment promotion agency, said Aug. 10.
While the eagerness to get on with asset sales is encouraging, the government's track record may give some investors reason to be skeptical. Greece never got close to the target of 50 billion euros in privatization assets, as proceeds from 38 sales in 2011 to 2017 reached just 4.7 billion euros in cash with a further 7.8 billion euros in total binding offers, according to Finance Ministry data.
Worse, some of the projects still on the docket are deemed "most difficult." Still, based on scaled-back expectations, Greece can claim some success on asset sales this year and the government looks set to rack up 2.7 billion euros of revenue in 2018 with some big projects showing signs of nearing completion.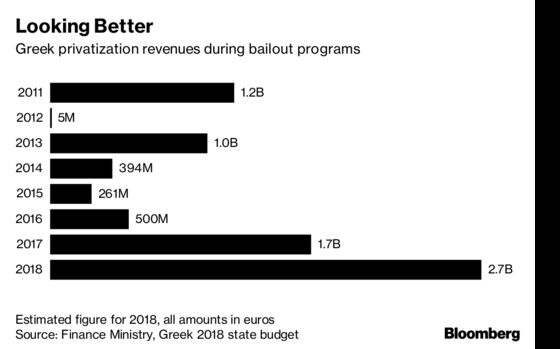 Recently Completed Privatizations
Desfa SA: Greece on July 20 agreed to sell 66 percent of the country's natural gas-grid operator to Snam SpA, Enagas International SLU and Fluxys SA for 535 million euros. The transaction raised 252.3 million euros for the state's 31 percent stake and the remainder for Hellenic Petroleum SA's 34 percent. Greece decided to proceed with a new tender for Desfa in March 2017 after a previous tender to sell the stake to Azerbaijan's Socar was terminated.
Greece on March 23 transferred a 67 percent stake in Thessaloniki Port Authority SA, the country's second-largest port, to a consortium comprising Deutsche Invest Equity Partners GmbH, Belterra Investment Ltd and Terminal Link SAS, pocketing 231.9 million euros. The total value of the deal amounts to 1.1 billion euros including mandatory investments worth 180 million euros over the next seven years and expected concession revenue of over 170 million euros.
Hellenic Telecom SA: Deutsche Telekom SA in May completed the purchase of a 5 percent stake in Greece's largest telecommunications company, paying 284.1 million euros.
Key Privatizations Scheduled or Underway
The government forecasts revenue of 2.74 billion euros in 2018 from state asset sales including:
Hellenic Petroleum SA: Greece has shortlisted Glencore Energy U.K. Ltd and Vitol Holding BV to buy a 50.1 percent stake in the country's largest refiner. The block sale, seen as a flagship privatization, comprises a 30.1 percent stake from Paneuropean Oil & Industrial Holdings SA's total 45.5 percent holding and 20 percent from the Hellenic Republic Asset Development Fund's 35.47 percent participation. Greece estimates the sale will raise 500 million euros. The target is end-2018.
Depa SA (Public Gas Corporation): Following an original plan to sell its 65 percent stake in the nation's natural gas supplier, Greece has now agreed with creditors to split the company into two, Energy Minister George Stathakis said June 5:

Depa Infrastructure will comprise the country's gas network and international projects, including major investments in pipelines, and remain under state control.
The second entity will form the commercial part of Depa and the state will retain 15 percent. The process to split Depa will begin in September and is scheduled for completion in in the first quarter of 2019.

Public Power Corp SA: Greece agreed with creditors that the country's dominant power provider, in which it owns 51 percent, will sell plants equal to about 40 percent of the company's lignite-coal fired capacity. Public Power said July 6 that six groups, including a venture of Beijing Guohua Elec. Power Co. and Greece's Damco Energy SA, had qualified to submit a binding offer. The Hellenic Republic Asset Development Fund (HRADF) holds a 17 percent stake in PPC.
Hellinikon SA: A joint venture led by Lamda Development SA bought the right to turn a former Athens airport site, twice the size of New York's Central Park, into a luxury coastal resort in 2014 for 915 million euros. Total investment at the site will amount to 8 billion euros; a final deal was signed in July 2016. Construction of the long-delayed project will begin once Greece tenders for a casino at the site.