Euro-Area Wages Bring Good News to ECB on Road to Policy Exit
(Bloomberg) -- Euro-area wages are on the rise, giving another boost to the European Central Bank's view that it's the right time to change policy tack.
Collective wages rose 2.2 percent in the second quarter, the most since 2012, according to updated data. That's up from 1.7 percent in the previous three months.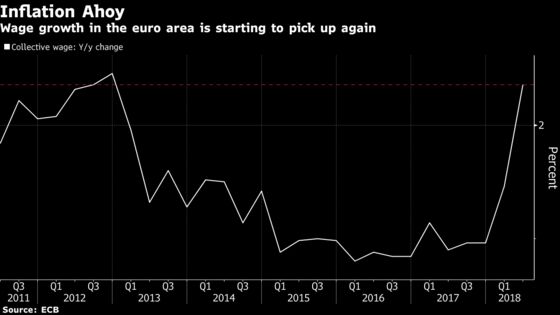 For economists, that's evidence that the better labor market -- unemployment is at the lowest in almost a decade -- is starting to feed through more to pay, which should in turn lift inflation. That's good news for ECB policy makers in a summer that's seen Italian bond yields pushed higher by investors' budget concerns and Turkey descend into a currency crisis that could, if it spreads, undermine sentiment.
The ECB announced in June it was winding down its bond-purchase stimulus program, in part because it anticipates an improvement in inflation later this year. President Mario Draghi has cited wage growth for this view, noting in particular better negotiated settlements.
"The period of a core inflation rate fluctuating around 1 percent is probably coming to an end," said Ralph Solveen, an economist at Commerzbank in Frankfurt. "The only question is how fast it will rise."
Bloomberg Economics also sees a gradual pickup in core inflation, "buttressed by accelerating wage growth."
According to Commerzbank, the better second-quarter wage growth was driven by Germany, where deals in the metal and construction industries lifted collective wages more than 3 percent.
There may be more comfort for policy makers on Thursday, when flash PMI numbers for August are due to be released. The composite reading is forecast to have risen slightly, extending the recent stabilization after a torrid start to the year. The ECB will publish the accounts of its July policy meeting on the same day.