China Spending Push Buoys Debt Sales, Calls for More Easing
(Bloomberg) -- China's return to large infrastructure spending is triggering a flood of new local government bonds, something analysts say will force the central bank's hand to inject more liquidity to meet the higher debt supply.
The government in China is encouraging local authorities to ramp up funding to boost building projects, a change from the push in the recent years to rein in debt-fueled growth. The increase is already showing up in the data and analysts reckon the supply of local debt in August and September will mark a fresh high for issuance.
While policy makers have tried to ease credit markets since July to revive a slowing economy in the midst of the trade war with the U.S., concerns remain that any surge in the supply of local government bonds may siphon funds away from the inter-bank market and trigger liquidity injections from the nation's monetary policy makers.
"The central bank is expected to inject more funding to the market via granting medium-term lending facility and conducting more open market operations in August and September to maintain ample liquidity," said Qin Han, a fixed income analyst at Guotai Junan Securities Co. in Shanghai. Bond yields have already risen in recent weeks due to the expected surge in local government bond issues, he said.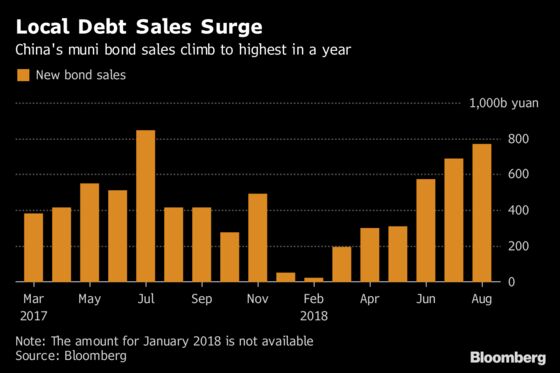 With a week to go until the end of the month, supply of local debt is already up to 768.3 billion yuan ($112.3 billion) in August, the most since July 2017, according to data compiled by Bloomberg.
Inner Mongolia government sold 10 billion yuan 20-year bonds on Wednesday, the longest maturity among municipal bonds in China, according to a statement on the Shanghai stock exchange.
There is also the added impetus from local authorities striving to meet a three-year deadline set out by the Ministry of Finance in 2015 to replace 14.3 trillion yuan of non-bond debt with new bonds to lower servicing costs. Local governments may sell about 2 trillion yuan of bonds in August and September combined, according to projections from China Bond Rating Co., CICC and Industrial Securities.
Banks' funding cost indicated by the overnight repurchase rate on the interbank market, rose to 2.47 percent on Thursday from a three-year low of 1.4 percent in early August. Yields on both corporate and sovereign bonds also rose in tandem.
Zhang Rui, chief fixed income investment manager from Changjiang Securities Co. sees the increase in local government bond supply as the "biggest pressure" on the market.
In addition to further open market operations, which resumed Aug. 16 after a 19-day suspension, policy easing measures could also include a targeted reserve-requirement ratio cut, according to SWS Research Co.