U.S. Sanctions Bring Stress to Already-Battered Emerging Markets
(Bloomberg) -- Under the presidency of Donald Trump, the U.S. is using sanctions against its adversaries -- and even some friends -- like never before. The latest batch against Russia and Turkey sank emerging markets, with stocks poised for their worst month since January 2016.
Here's a refresher of the most recent restrictions imposed by the U.S., the outlook for further sanctions and how markets have reacted.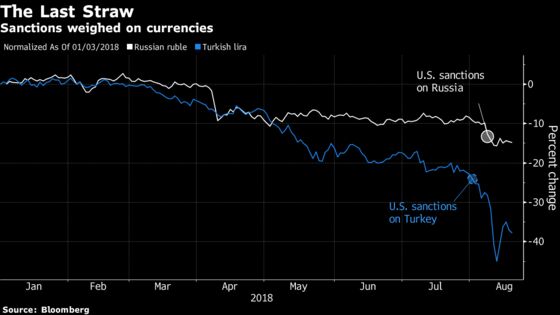 The U.S. imposed sanctions on two Turkish ministers on Aug. 1 in an extraordinary move for a NATO ally after negotiations failed to achieve the release of an American pastor arrested on charges of espionage and aiding terrorists. While largely symbolic, the sanctions were enough to send investors fleeing the lira.
Then Trump upped the ante. On Aug. 10, he ordered the doubling of steel and aluminum tariffs against Turkey. Trump announced the measure in an early morning tweet and by the end of the day the lira had completed its biggest weekly decline since 2008. On Aug. 16, the U.S. stepped up the rhetoric again, with Treasury Secretary Steven Mnuchin saying additional sanctions were ready if Turkey refused to release the pastor.
Turkey is closely knitted to western credit markets. With an external debt volume similar to Russia's, the slump in the currency threatens to push the country's economy into a recession.
The lira sank 20 percent this month -- the biggest depreciation among 24 emerging-market currencies tracked by Bloomberg.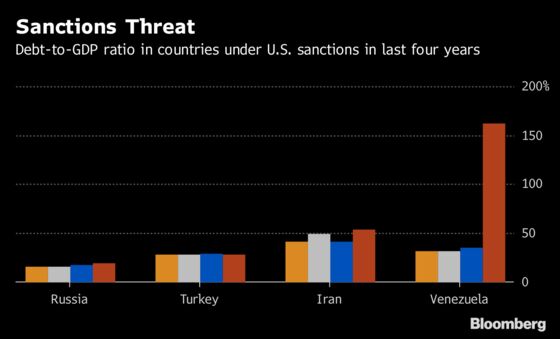 Investors had already been exiting Turkey due to accelerating inflation, a high current-account deficit and unpredictable monetary policy. The lira has slumped about 38 percent this year, the worst performance after Argentina.
The U.S. State Department announced this month new restrictions to punish Vladimir Putin's government for the nerve-agent attack on former spy Sergei Skripal in the U.K. The measures, which take effect Aug. 22, will limit exports to Russia of U.S. goods and technology considered sensitive on national security grounds. More sweeping measures may follow 90 days later.
At the same time, the U.S. Congress is weighing draft legislation proposing more sanctions that target Russia's sovereign debt and its largest banks in response to alleged election meddling.
Russia has been a target of U.S. sanctions since Barack Obama's administration. Starting in 2014, the U.S. government has imposed restrictions to protest Russia's annexation of the Ukrainian peninsula of Crimea and its support for a separatist uprising in eastern Ukraine. More were added after U.S. intelligence agencies concluded that Moscow interfered in the 2016 presidential election won by Trump.
In April, another round of measures in response to Russia's "malign activity around the globe" hit Oleg Deripaska's United Co. Rusal hardest, limiting its access to the $140 billion global aluminum industry.
In a response to Trump's comments that he could ease sanctions if Russia assisted on issues such as Ukraine and Syria, the Kremlin spokesman Dmitry Peskov said Tuesday that they want to know which specific steps the U.S. is seeking in this cooperation.
Almost 700 Russian people and companies are now under U.S. sanctions.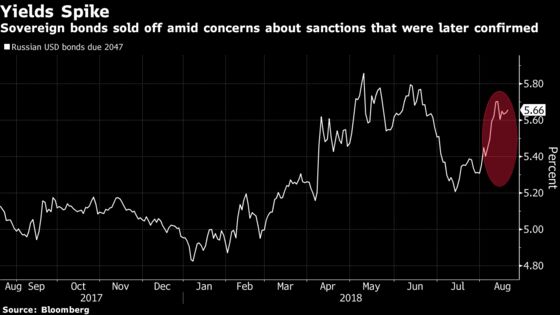 The ruble has retreated about 7 percent in August, heading toward its worst month since November 2016.
Trump pulled the U.S. out of the Iran nuclear deal on May 8 despite opposition from China, Russia and NATO allies, reimposing sanctions on the Islamic Republic.
The U.S. plans to hit Iran's lifeline by targeting oil exports as it demands the Islamic Republic stops supporting terrorism and halts its ballistic-missile program. Faced with a choice between doing business with Iran or the U.S., European companies including Daimler AG, Total SA and Peugeot SA quickly halted activity or backtracked on investment plans in the Persian Gulf nation.
Iranian hardliners increased pressure on President Hassan Rouhani -- a relative moderate -- after the sanctions resumed, while the rial went into freefall on Tehran's unregulated market. A 50 percent jump in the price of some food items sparked street protests and led the central bank to impose capital controls.
Rouhani has called for other partners in the nuclear agreement to stand by the accord and on Aug. 6 he indicated the U.S. needs to ease sanctions before he'd agree to any talks. Trump said he would meet with Rouhani without preconditions.
Still, he also tweeted: "Anyone doing business with Iran will NOT be doing business with the United States. I am asking for WORLD PEACE, nothing less!."
The rial has lost about 80 percent of its value since late April, and is currently trading at about 102,200 to the dollar.
The U.S. has imposed sanctions on Venezuela for human-rights abuses, political repression and graft, culminating in the Trump administration August 2017 decision to bar trading of new debt issued by the Venezuelan government and its state oil company PDVSA in U.S. markets and block dealing in some existing bonds owned by the country's public sector.
The sanctions forced the government to announce a restructuring of all its debt in November. American investors were prohibited by U.S. authorities from engaging in that restructuring.
Venezuela's international bonds due in 2027 lost more than half of their value last year, reaching an all time low of 21.785 cents on the dollar in December. They currently trade at about 28 cents.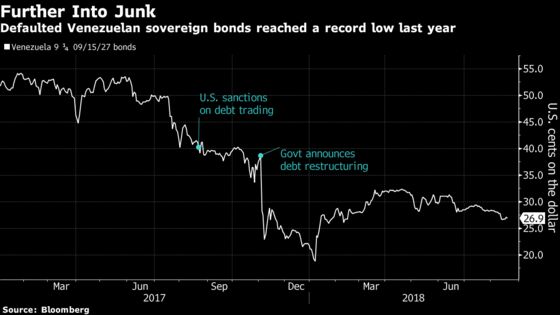 This year Trump also prohibited the sale, transfer or pledging of collateral of any equity interest in which the Venezuelan government has a 50 percent or greater stake, further choking off funding to President Nicolas Maduro's government.
The sanctions, rampant inflation and lower oil prices have almost wiped out the value of Venezuela's bolivar since Maduro was elected in 2013.
This weekend, the government carried out one of the greatest currency devaluations in history -- a 95 percent plunge that will test the capacity of an already beleaguered population to stomach more pain. The government is also re-denominating the currency by lopping off five zeros and introducing new bills and a name change.