U.K. Government Posts Biggest July Budget Surplus in 18 Years
(Bloomberg) -- The U.K. budget surplus in July surged to the biggest since 2000 for the month as tax receipts picked up.
The surplus on the month was 2 billion pounds, more than the 1.1 billion pounds predicted by economists, the Office for National Statistics said on Tuesday. The April-July deficit for the financial year so far was 12.8 billion pounds, down more than 8 billion pounds from last year.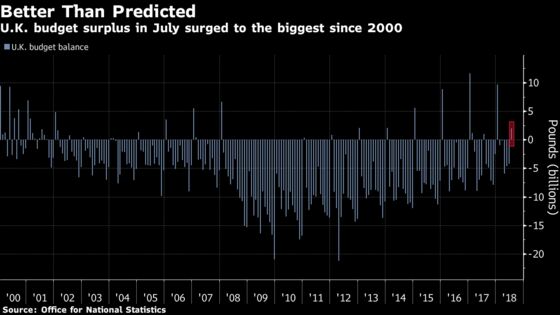 The deficit in 2018-19 so far is running more than a third below year-earlier levels, as the government coffers benefit from record employment and reasonable consumer spending. July often produces a budget surplus, as self-employed workers' tax payments from the previous financial year are due.
The July surplus leaves Chancellor of the Exchequer Philip Hammond on course to significantly undershoot the 37.1 billion pounds, or 1.8 percent of GDP, forecast by his fiscal watchdog for the full fiscal year.
Almost a decade of austerity has reduced borrowing in the aftermath of crisis and Hammond wants to balance the books by middle of the next decade.
The cash measure used to calculate how much the Treasury needs to borrow came in at minus 13.8 billion pounds last month.