Trump Can Complain All He Wants, But the Dollar Will Stay Strong
(Bloomberg) -- Short-term pain, but the long-term gain penciled in for the dollar is still intact.
While the greenback declined on Tuesday after U.S. President Donald Trump reportedly censured the Federal Reserve for raising interest rates, the currency's outlook is still bullish, according to a growing chorus of money managers.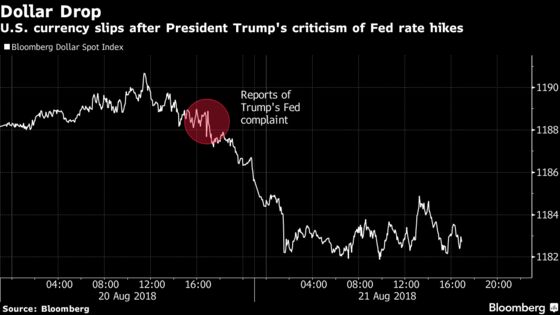 The dollar has strengthened more than 4 percent against the euro this year as the Fed raised borrowing costs twice and looks on course to increase again in September as well as December. Benchmark 10-year Treasuries now yield about 250 basis points more than comparable German bunds, close to a record high, helping to attract funds into the dollar.
"Looking at the economy they should be raising rates," Rachel Winter, an investment manager at Killik & Co. that oversees about 5.9 billion pounds ($7.6 billion), told Bloomberg Television. "I don't think Trump's comments will steer the Fed away from doing that and therefore the interest-rate rising cycle will push the dollar higher."
Trump's comments come at a time when emerging-market investors come to grips with greater volatility amid higher global yields and a burgeoning trade war between the U.S. and China. Winter's view chimes with other asset managers who remain bullish on the dollar, with the world's largest publicly traded hedge fund, Man Group Plc, saying last week that escalating trade tensions may only fuel the dollar's strength, not stymie it.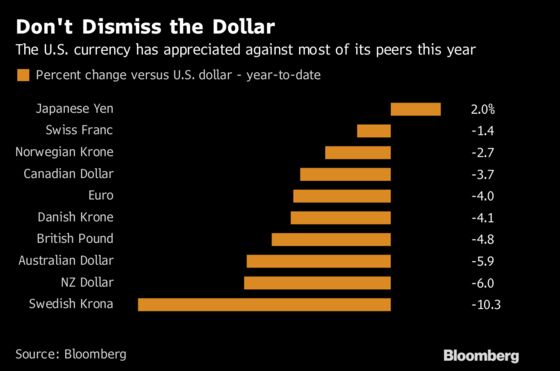 Investors would do well to stick with the U.S. currency as long as the Fed continues to raise rates, according to Old Mutual Global Investors.
"I honestly think now you sort of buy the dip in the dollar," said Mark Nash, a money manager at Old Mutual. "What essentially is going on here is you have in the global economy the Fed hiking at the same time when you have growth weak in the rest of the world. This is sucking dollars out of the system, and this is why the dollar is so big at the moment and it's very hard to see that changing."
While the dollar is likely to stay strong for now, the trend may reverse as we go into 2019, said Robert Parker, a member of the Quilvest Wealth Management Investment Committee.
"The Fed will raise rates in September, they will probably raise rates again in December," Parker told Bloomberg Television. "However, I challenge the Fed's guidance that they will raise rates three times in 2019. The rate increases may stop in the middle of next year."