Swiss Watch Export Growth Slows as U.S., Chinese Shipments Drop
(Bloomberg) -- Swiss watch export growth weakened in July as shipments to the U.S. and China stalled.
Shipments rose 6.6 percent to 1.8 billion francs ($1.8 billion) last month, the Federation of the Swiss Watch Industry said Tuesday. Exports of timepieces to the U.S. fell for the first time in six months, while those to China dropped for the first time in three.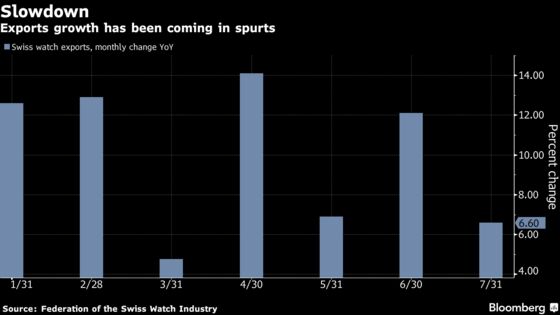 This is the 15th consecutive month of growth overall
Shipments to Hong Kong rose 27%
Shipments declined 0.7% to the U.S. and 0.4% to China
Exports to Japan rose 17%
Exports to continental Europe dropped, with France down 1%, Italy down 9.1% and Germany down 8.6%