Kaplan Favors Fed Rate Pause at Neutral With Eye on Yield Curve
(Bloomberg) -- Federal Reserve Bank of Dallas President Robert Kaplan said the central bank should continue raising interest rates until they hit neutral, the level that neither stokes nor slows economic growth. At that point, he might favor a pause.
"I would be inclined to step back and assess the outlook for the economy and look at a range of other factors -- including the levels and shape of the Treasury yield curve -- before deciding what further actions, if any, might be appropriate," Kaplan wrote in an essay on the economy and monetary policy published Tuesday.
Kaplan, who next votes on monetary policy in 2020, is one voice in a chorus of regional presidents who favor a cautious approach to future hikes. Raphael Bostic in Atlanta, Neel Kashkari in Minneapolis and James Bullard in St. Louis have also used this year's flattening Treasury yield curve to argue that the central bank should tread warily.
The Fed will have to decide soon whether to pause at neutral. By Kaplan's estimation, the central bank only has three or four more rate hikes before it hits the equilibrium level. And while some regional leaders might favor taking a break at that time, the median official in the central bank's so-called dot plot of rate projections expects the committee to push rates into restrictive territory starting next year.
"As I judge the pace at which we should be raising the federal funds rate, I will be carefully watching the U.S. Treasury yield curve," Kaplan writes in his essay. A yield curve in which short-term Treasury yields rise above longer-term ones has historically heralded recession.
"I do not discount the significance of an inverted yield curve," Kaplan said.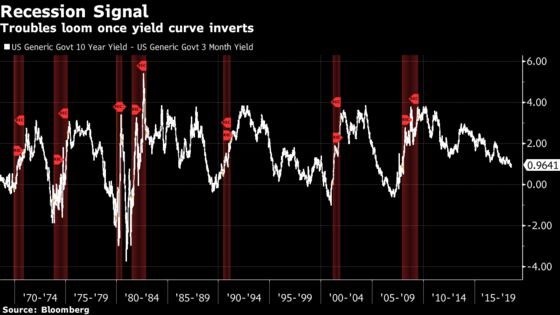 His concern, which he has aired before, echoes comments from Atlanta's Bostic.
"I pledge to you I will not vote for anything that will knowingly invert the curve and I am hopeful that as we move forward I won't be faced with that,'' Bostic said Monday during an audience question-and-answer session. "The market is going to do what the market does, and we have to pay attention and react.''