Emerging Markets on the Rack as Turkey Shatters Confidence
(Bloomberg) -- Emerging-market assets may be headed for more tumult as the volatility that gripped nations from Turkey to South Africa and Russia shows few signs of ebbing.
A chaotic week for developing nations last week took both stocks and currencies near their lowest levels in more than a year. Despite a rebound in the middle of the week, the lira resumed a sell-off on Friday and traders will probably remain on edge as they wait to see whether the U.S. imposes more sanctions.
Listen here: Emerging Markets Weekly Podcast: U.S.-China Trade, New Bolivar
Turkey's credit rating was cut further into junk by S&P Global Ratings and Moody's Investors Service, which said the volatile currency and wide current-account deficit may undermine the Middle East's largest economy. Some relief may be provided as trading in the lira will be thin this week due to holidays starting Tuesday. The MSCI Emerging Markets Currency Index rose 0.3 percent to 1,594.91, after falling 0.8 percent last week.
Elsewhere, the U.S. is scheduled to impose 25 percent tariffs on an additional $16 billion in Chinese imports Thursday. The new list covers products ranging from motorcycles to steam turbines and railway cars. China said it will retaliate with 25 percent tariffs on $16 billion of U.S. goods. Brazil releases trade-balance data on Monday, Hungary's central bank reviews interest rates on Tuesday and South Africa announces inflation figures for July a day later.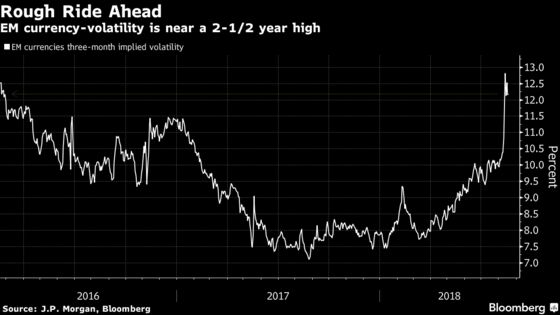 Implied volatility for exchange rates over the next three months is at the highest since early 2016, showing traders are not seeing markets calming down anytime soon. Morgan Stanley doubts that prices of stocks, bonds and currencies have fallen far enough for them to be attractive.
"We don't think it's time to add back risk in emerging markets despite cheaper valuations and lighter positioning," Morgan Stanley analysts including James Lord and Min Dai said in a note to clients. "Instead, we recommend de-risking EM portfolios further."
Turkey's Strife Continues
The lira's one-month implied volatility, which reached a record just above 64 percent on Monday, eased to 47 percent on Monday

It remains by far the most likely to gyrate among emerging-market peers, with an implied volatility almost double that of the South African rand, the runner-up

"Inflation should stay well above 15 percent, and probably rise to 20-25 percent in the near term, fueled by pass-through effects of the Turkish lira depreciation and the central bank's reluctance/inability to hike rates," said Regis Chatellier, an analyst at Societe Generale SA in London
READ: Turkish Court Rejects Pastor's Appeal as More Sanctions Loom
South Africa Feels the Heat
The rand weakened almost 4 percent last week as it touched a more-than-two-year low
Yields on the government's benchmark local bond due in December 2026 rose 18bps to 9.04%
South Africa's annual inflation rate probably climbed to 5 percent in July from 4.6 percent in June, according to a Bloomberg survey of analysts ahead of the data release on Wednesday; the central bank's target is 3 percent to 6 percent
The U.S. Trade Representative's office will start six days of public hearings on Monday on the proposal to impose tariffs on $200 billion of Chinese goods, which may provide some clues as to how the trade war between the world's two largest economies will evolve. The U.S. and China will hold trade talks in Washington this week, with the aim for President Trump and President Xi to meeting in November, the Wall Street Journal reported.
The Shanghai Stock Exchange Composite Index continued its slide, dropping 4.5 percent to its lowest since January 2016
The yuan slid for a 10th week, briefly crossing 6.9 against the U.S. currency
READ: China, Unsure of How to Handle Trump, Braces for 'New Cold War'
The election race remains center stage with new polls due this week. Investors will also follow headlines related to Luiz Inacio Lula da Silva, as the jailed former president officially filed his candidacy last week and was challenged by Brazil's prosecutor general. Lawyers for the jailed former president are expected to present his defense this week.
Chile GDP on Aug. 20, Mexico retail sales on Aug. 22, Brazil's mid-August IPCA inflation on Aug. 23
Venezuela re-denominated its near-worthless bolivar over the weekend, a 95 percent plunge that will test the capacity of an already beleaguered population to stomach even more pain. The Sovereign Bolivar, as the new currency will be called, will be linked to the country's Petro cryptocurrency.