ECB's Weidmann Says Central Banks May Need to Tackle Imbalances
(Bloomberg) -- Jens Weidmann, a top candidate to lead the European Central Bank next year, said policy makers must be willing to act if needed to prevent financial imbalances.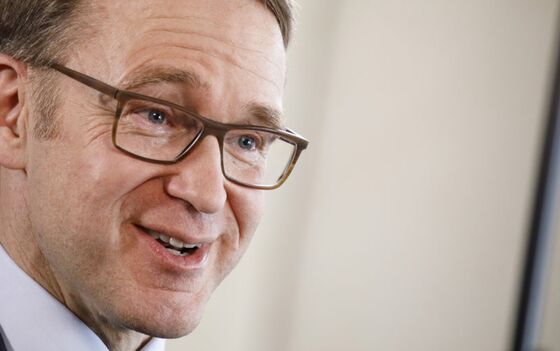 While arguing that monetary officials should have only one mandate -- price stability -- and generally let national authorities in the euro area handle tasks such as reining in asset prices, he acknowledged that those macroprudential tools are still poorly understood.
"Should monetary policy remain completely passive if financial imbalances were to build up? In my view, this would be a mistake," Weidmann, who heads Germany's Bundesbank, said at a conference in Frankfurt on Monday. "As we have witnessed, financial crises have a considerable impact on macroeconomic outcomes and, ultimately, central banks' ability to guarantee price stability."
Weidmann sits on the ECB's Governing Council and is considered a frontrunner to become president when Mario Draghi's term ends in October 2019, though his resistance to extraordinary stimulus has raised concerns in some countries that he'll be too hawkish. He told the conference it "seems plausible" that high valuations in some euro-zone asset markets are being partly driven by low central-bank rates.
The ECB has set the stage for a gradual policy normalization, planning to end bond purchases in December and possibly raising interest rates late next year. Its goal is to maintain inflation at just under 2 percent over the medium term without monetary support.
Weidmann argued that taking on financial stability as an additional mandate would likely do more harm than good, but there are times the central bank could step in.
"In the long term, price stability and financial stability can complement each other," he said. "Thus, taking a longer-term perspective on inflation, central banks might be compelled to act on the build-up of financial imbalances despite having a single objective."