Forget the EU: Bond Market Ready to Keep Italian Budget in Line
(Bloomberg) -- Italy's fledgling government may have no greater incentive than the bond market to ensure it stays within European Union spending rules.
Should the Five Star Movement-League coalition break the bloc's deficit limit of 3 percent of gross domestic product, the premium to hold Italy's debt over Germany's could blow out to 470 basis points -- a level not seen since the euro-area debt crisis. If the government plays ball in the September budget, it may be rewarded with the same or even lower borrowing costs than at present, according to median forecasts in a Bloomberg survey of banks.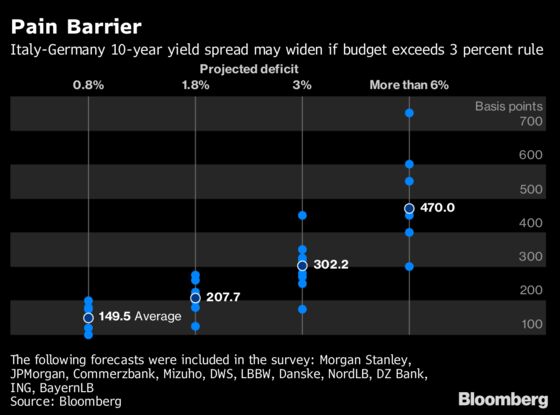 Italian bonds have borne the brunt of fear surrounding the country's budget and the potential for a clash with the EU. The 10-year yield spread over Germany last week touched the highest level since the formation of the new government as risk aversion from turmoil in Turkey collided with rhetoric from Italy's leaders on not falling prey to speculators.
"You would hope that they are aware of the financial market being very nervous about Italian risk at the moment," said Luke Hickmore, senior investment manager at Aberdeen Standard Investments, who recommends avoiding all Italian risk in the run-up to the budget. "If they can find a way to give the market confidence that they are not going to keep pushing on the fiscal pedal then it can all calm down. But that at the moment feels a hard thing for them to do."
The key focus for investors will be on the coalition's plans to introduce tax cuts and introduce a basic income for the poorest, as well as the time scale for measures to be introduced. If the two parties in government were to adopt all of their proposed reforms, Goldman Sachs Group Inc. estimates that would widen the deficit to between 6.4 percent and 7.4 percent of GDP in 2019, while even a limited implementation could bring the government close to the EU's 3 percent limit.
That compares with a 0.8 percent level submitted by the government, though Finance Minister Giovanni Tria said this month that it is heading toward 1.2 percent due to slower growth. Last week, in the wake of a bridge collapse in Genoa, in northwest Italy, Deputy Prime Minister Matteo Salvini said the government may have to start questioning "external constraints" on spending for infrastructure.
The yield on Italian 10-year bonds, or BTPs, was 3.07 percent, having climbed about 50 basis points in the past month. The spread over their German peers has widened to 277 basis points. At the height of the euro-area debt crisis, the yield gap between the two topped 500 basis points.
"BTP strategy boils down to one number: the deficit projection for 2019 that the government decides to shoot for," said NatWest Markets' head of European rates strategy Giles Gale, who sees the market pricing in a 2 percent deficit level. "We see risks of a less friendly outcome and recommend to be short BTPs."