Italy's Giorgetti Hopes ECB Quantitative Easing Will Be Extended
(Bloomberg) -- Italian Cabinet Undersecretary Giancarlo Giorgetti said he hopes the European Central Bank's quantitative easing program will be extended to help protect the country from financial speculators.
Italy also needs to be credible to help shield itself, Giorgetti said in an interview with newspaper Il Messaggero. After the Genoa bridge disaster, the country may boost its extra spending request to the European Union, he said.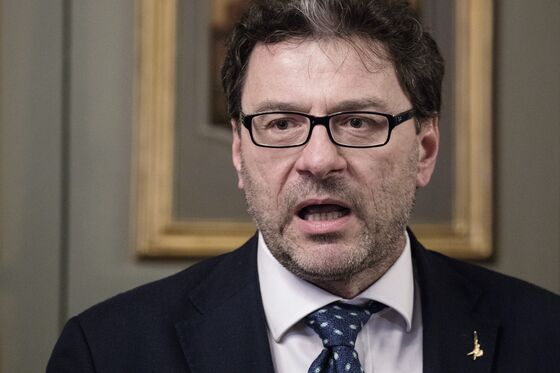 The ECB under President Mario Draghi has "carried out a very important function these last few years," Giorgetti told the newspaper. "I hope that the quantitative easing program will go forward."
The ECB's Governing Council "anticipates" slowing its flagship bond-buying program in October and capping holdings at the end of the year, when they'll reach 2.6 trillion euros ($3 trillion). That plan is subject to incoming data, leaving room to extend purchases if needed.
Speculative funds are "doing their job" as the ECB winds down QE, Giorgetti said in the interview published on Sunday. "It is up to us to be credible and to overcome that speculative instinct."
He said he expects the EU to look favorably on government spending to upgrade Italy's deteriorating infrastructure, while the starting point is for the government to boost next year's budget deficit to 1.6 percent to 1.7 percent of gross domestic product from the 0.8 percent foreseen by the previous administration. That would mean about 15 billion euros in extra spending. Giorgetti is a prominent member of League, the government coalition partner.
Giorgetti also said he sees TAP, the Trans-Adriatic Pipeline, being finished to carry natural gas from the Caspian Sea.