Furtive Policy Puts Turkey on Road to 300 Basis-Point Rate Hike
(Bloomberg) -- Turkey may be on the path toward a 300 basis-point interest rate increase with barely a whisper from the central bank as the country struggles to contain a currency crisis that's reverberating around the world.
By shutting banks off from borrowing at the benchmark 17.75 percent repo rate and forcing them to turn to the overnight lending rate -- currently at 19.25 percent -- policy makers have effectively enacted a 150 basis-point hike within a week. Should they close down the overnight market too, it would compel borrowers to turn to the emergency late liquidity window, where rates currently stand at 20.75 percent.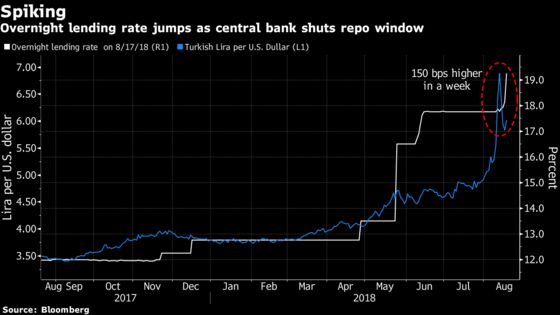 "The repo rate is no longer relevant because all the funding is done at the overnight lending rate," said Ziad Daoud, the chief economist for the Middle East at Bloomberg Economics in Dubai. "It'll be interesting to see whether the central bank will stop here or or whether it'll use the late liquidity window to lift rates further."
The central bank is trying to counter the slump in the lira without formally raising its benchmark interest rate, a move opposed by President Recep Tayyib Erdogan. The president says that higher interest rates fuel inflation -- a view at odds with economic orthodoxy -- and will kill off economic growth. The lira slid 20 percent in the past month, triggering concern about contagion in other emerging markets grappling with fears of a trade war, reduced stimulus in the developed world and falling commodity prices.
Despite a rebound in the middle of the week, the lira resumed a sell-off Friday and traders will probably remain on edge as they wait to see whether the U.S. imposes more sanctions. Turkey's credit rating was cut further into junk by S&P Global Ratings and Moody's Investors Service, which said the volatile currency and wide current-account deficit may undermine the Middle East's largest economy. Lira trading is likely to be thin in coming days due to a week-long holiday.