Yuan Squeeze, Gaming Freeze, Tencent: A Week in China's Markets
(Bloomberg) -- Yuan bears feel the squeeze even as the currency drops for a 10th week, Hong Kong has a slew of nasty earnings surprises, and Tencent Holdings Ltd. drags Chinese tech into a bear market. Here's a roundup of what we've been talking about in China markets this week.
Don't fight the People's Bank of China. Traders unwound their short positions after the cost of derivatives betting against the yuan soared the most since 2011 on Thursday, the day after the currency weakened past 6.9 per dollar. Word is that China may be restricting banks' ability to lend yuan offshore, taking another step to avoid anything like the disorderly devaluation of three years ago. The yuan still dropped this week, though it was by no means a one-way bet.
Hong Kong's de facto central bank spent $2.1 billion defending its dollar peg this week, intervening in the market for the first time since May. Interbank borrowing rates climbed, as did the cost of taking out a mortgage in the city.
A number of Hong Kong's most-loved stocks are coming up really short this results season. Sunny Optical Technology Group Co.'s weak margins spurred a record 24 percent dive in the shares, triggering a selloff in smartphone suppliers around the world. Tencent clocked in its worst five-day rout in more than three years, shocking bullish analysts with the first profit decline in over a decade. Virtually every single analyst tracked by Bloomberg trimmed their share-price targets on Tencent, perhaps a little too late.
Things don't bode too well for AAC Technologies Holdings Inc. or Kingsoft Corp., both already down at least 40 percent this year and due to release results next week.
Quit playing games
Our tech team had quite the scoop this week: regulators are said to have frozen approval of game licenses in China, the world's biggest market for the industry. Tencent's bad run got worse on the news, which also slapped peers in Japan and New York. Analysts say gaming companies will struggle to make money in the third quarter if they can't release new titles -- Tencent is still waiting on PC approval for two of its games and had to pull another just days after its debut in China.
Bad earnings and the regulatory hurdles combined to take the MSCI China tech gauge into a bear market, trading near its cheapest valuation versus a U.S. equivalent in almost seven years.
Read more:
Swine flu panic
With China's health care industry still reeling from a vaccine scandal, a different one threatened to hit the country's farming sector this week. WH Group Ltd., the world's biggest pork company, said it closed one of its slaughterhouses after finding 30 cases of swine fever, with the shares rebounding a little on Friday amid signs the outbreak was contained. WH Group, whose shares have already been caught in the U.S.-China trade spat this year, said it's importing about 20 to 30 percent less pork to its home market.
Read more:
Health-care stocks erase gains 
We've covered the bear market in tech shares from all angles. One of last year's most crowded trades, their rout since January has wiped billions off the fortunes of some very wealthy people in China. Click here for the full story.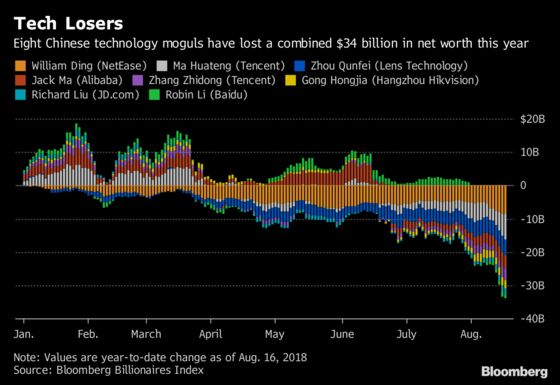 Here's what else caught our eye.
The worst of the plunge in the yuan may be over.
Chinese banks aren't lending.
A moment of panic in this corner of the credit market.
Foreigners are getting interested in Chinese stocks.
Hong Kong's ultra-rich are exploiting this loophole.
Interest rates in China fall below those in the U.S.
This China hedge fund is doing really well.
You can soon own a slice of a hot pot chain.
Yum China's potential buyout has backers in high places.
HNA Group Co. is selling more assets.