Turkey Promise, China Trade Talk Fail to Dispel Gloom: EM Review
(Bloomberg) -- Emerging-market assets fell for a third week as investors digested Turkey's promise to refrain from capital controls and moves by the U.S. and China to restart trade negotiations. Turkey's credit rating was cut further into junk.
The lira remained the epicenter of turbulence that pushed currencies to a 13-month low and stocks to the brink of a bear market. The MSCI Emerging Markets Index fell 3.7 percent in its biggest weekly decline since February as of the U.S. close Friday, while a gauge tracking currencies dropped 0.8 percent. A Bloomberg Barclays index of EM local currency-government bonds declined 1 percent.
Highlights for the week ended Aug. 17:

U.S. Treasury Secretary Steven Mnuchin said the U.S. is ready to slap more sanctions on Turkey if President Recep Tayyip Erdogan refuses the quick release of an American pastor; Qatar threw Turkey a financial lifeline, pledging $15 billion of direct investment
S&P says in cutting Turkey rating that it expects recession next year, inflation to peak at 22 percent in next four months, while Moody's cites "lack of clear and credible plan" to address issues; moves came after local markets closed Friday
While lira fell earlier Friday, it ended with the best weekly performance among peers; Turkey won't impose capital controls, said Finance and Treasury Minister Berat Albayrak
China said Vice Commerce Minister Wang Shouwen will visit the U.S. for trade talks; negotiations are said to be planned for Aug. 22-23 with aim of Trump-Xi meetings in Nov., the Wall Street Journal reports
South Africa's rand was the worst-performing EM currency at 4:as Moody's said fiscal consolidation will be slower than government estimates because of weak economic growth and a higher public-sector wage bill
A surprise interest-rate hike by the Bank Indonesia, which took total increases this year to 125 basis points, failed to stem declines in the rupiah, the worst performer in EM Asia after India's rupee. The rate was lifted to 5.5 percent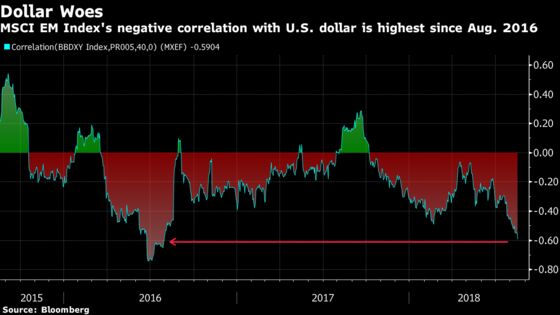 The onshore Chinese yuan fell for a 10th week and Shanghai Composite Index traded at its lowest since 2016; retail sales and industrial production data for July missed estimates while fixed-asset investment figures also trailed forecasts

PBOC appears to be propping up the yuan, setting the daily fixings at stronger-than-expected levels ahead of the resumption of trade talks
Tencent Holdings reported its first profit drop in at least a decade

North Korean leader Kim Jong Un and South Korean President Moon Jae-in agreed to meet in Pyongyang next month

Moon proposed setting up an "East Asian Railroad Community" that includes the U.S. and North Korea to cool rising tensions

South Korea's won rose while its Kospi index of stocks posted a third weekly loss; there are "grave concerns" over unemployment, the Finance Ministry says, as data show the number of people employed rose by just 5,000 in July, the least since January 2010
India's rupee was Asia's worst performer as the nation's trade deficit widened to $18 billion, more than the estimated shortfall of $15.7 billion; inflation eased for the first time in four months, to 4.17 percent in July year-on-year, after a revised 4.92 percent increase in June

The central bank may opt for a pause after back-to-back interest-rate hikes to assess the impact on economic activity, minutes of the latest monetary policy committee meeting show

The Indonesian rupiah declined; central bank said it stepped up intervention in the currency market and is "guarding" the government bond market, said Nanang Hendarsah, executive director for monetary management

The nation posted a trade deficit of $2.03 billion in July, the widest since 2013
President Joko Widodo is targeting record government spending in 2019, he said in his annual budget speech; election due in April 2019

The Philippine Stock Exchange Index had its worst week since June as the peso extended a two-week losing streak; President Rodrigo Duterte keeps saying that he's tired and ready to quit, but isn't satisfied with his successor

Bangko Sentral ng Pilipinas is firm in its intention to take "immediate and appropriate" measures to ensure that its monetary policy continues to support stable prices, said Governor Nestor Espenilla

Malaysia's ringgit weakened for a ninth week; the nation's economy expanded 4.5 percent in the second quarter from a year earlier, missing the median estimate for 5.2 percent growth, while the current-account surplus was 3.9 billion ringgit ($950 million), compared with a forecast for a 12 billion ringgit excess

The central bank announced foreign-exchange administration rules aimed at providing businesses with greater flexibility; says monetary policy remains accommodative
Turkey's lira rallied more than 6 percent; Turkey's Banking Regulation and Supervision Agency halved the limit on lenders' swap and swap-like transactions to 25 percent of shareholder equity

President Erdogan vowed to boycott iPhones in a demonstration of defiance against the U.S.

Russia's ruble was the best EM performer after the lira; data showed the nation halted its shift out of Treasuries held onshore in the U.S. after a mass exodus in the wake of sanctions in April; Russia's holdings of U.S. bills, notes and bonds were unchanged at $14.9 billion in June
The Polish zloty advanced while the Czech koruna was little changed even as second-quarter growth dipped from a peak at the start of the year in Poland and the Czech Republic; growth in Polish gross domestic product slowed slightly, to 5.1 percent year-on-year, while Czech GDP cooled to 2.3 percent from 4.2 percent in the first quarter
Hungary's forint rose as the economy expanded at the fastest pace in four years in the second quarter
Brazil's real extended a two-week losing streak; the G1 website reported that Sao Paulo prosecutors may charge Geraldo Alckmin, the investor favorite for the Brazilian presidential election, for alleged wrongdoing during his tenure as state governor

In Brasilia, thousands marched to support jailed ex-president Luiz Inacio Lula da Silva as he formally registered his application to run for president in October
Ibovespa equity index also fell for a second week

The Mexican peso declined; Economy Minister Ildefonso Guajardo said there's no guarantee of a Nafta deal, but progress is being made, while U.S. Trade Representative Robert Lighthizer said he's hopeful for a Nafta breakthrough in the next few days
Argentina's peso fell to an all-time low of 30.50 on Wednesday before trimming a weekly loss; the nation forced its biggest lenders to start turning over more cash to the central bank in its latest bid to shore up the peso

Argentina's central bank is still negotiating a currency swap with the People's Bank of China, according to local media El Cronista and Ambito Financiero

The Colombian peso extended a five-week losing streak; economic growth accelerated in the second quarter to extend a rebound from a four-year slowdown; gross domestic product rose 2.8 percent from a year earlier

Central bank Governor Juan Jose Echavarria said the peso at 3,000 per dollar is "optimal level" and a depreciation of 15-20 percent wouldn't be worrying
Monday, Aug. 20
Thailand
2Q GDP
Taiwan
2Q current-account balance, July export orders
Chile
2Q GDP, 2Q current-account balance
Tuesday, Aug. 21
Thailand
July customs trade data
Hungary
Monetary policy decision
Wednesday, Aug. 22
South Africa
July consumer price index
Poland
July retail sales
Mexico
June retail sales
Thursday, Aug. 23
Taiwan
July industrial production
Brazil
Mid-Aug. inflation
Friday, Aug. 24
Malaysia
July consumer price index
Mexico
2Q F GDP, 2Q current-account balance