Trade Trumps Turkey for Emerging Asia as Funds Ignore Tumult
(Bloomberg) -- Forget about Turkey. The trade war is still the wildcard for emerging Asian currencies and bonds, according to investors.
The lira's meltdown may have provoked a seizure in Asian markets this week but portfolio managers are looking past the noise to assess the longer-term outlook for the region. They say the road to recovery is littered with obstacles, with the ongoing row between China and the U.S. a major stumbling block, even as low-level trade talks are set to resume.
"The biggest risk to emerging-market fixed-income assets remains a full-fledged trade conflict which will strengthen the dollar, at least in the near term," said Krishna Memani, New York-based chief investment officer at OppenheimerFunds Inc. which oversees more than $249 billion. "Those safe haven flows can become catastrophic for all emerging-market assets."
China's response to slowing growth, a stronger dollar fueled by Federal Reserve tightening and a possible rise in U.S. protectionism ahead of mid-term elections are the other drivers of regional markets -- which until Turkey imploded -- were showing tentative signs of stabilization.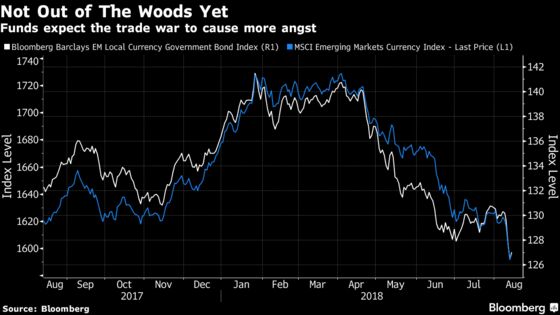 Contagion fears whipsawed Asian bonds and currencies this week, after the lira plunged to a record low Monday. The currency pared losses after a series of measures announced by the nation's banking regulator but a Bloomberg gauge of developing-nation government bonds remains near a 17-month low and the MSCI Emerging Markets Currency Index is close to its weakest in more than a year.
With the lira attempting to stabilize, investors are focusing on other risks which could delay a recovery in developing-nation assets. For Amundi SA, Europe's biggest asset manager, the trade war is among the factors that's putting it on guard after recently increasing its exposure to emerging Asia.
"It is too early to tell if the whole of EM has turned the corner," said Esther Law, a senior emerging-market debt manager at the firm, which oversees the equivalent of $1.67 trillion. "There are still many headlines risks regarding trade wars, sanctions and election risks generally speaking, and these are likely to keep EM FX and government bonds on their toes in the near term."
As markets await the next development in the U.S.-China trade spat, Fidelity International warns that the dispute may worsen in the coming months.
"The mid-term elections in the U.S. are coming up, which will actually exacerbate the trade war, at least the rhetoric," said Eric Wong, Hong Kong-based fixed-income portfolio manager at the investment manager.
U.S. President Donald Trump on Thursday prodded China to offer more at the bargaining table as the two countries prepared for their first major negotiation in more than two months.
Still, there are pockets of optimism. Deutsche Bank Wealth Management is predicting a recovery in emerging Asian currencies, anchored in part by expectations for a steadying Chinese yuan due to central bank intervention.
"We expect more stabilization of EM Asia FX for the rest of the year as dollar strengthening should be mild and the economic fundamentals of Asian economies are largely resilient," said Tuan Huynh, chief investment officer for Asia Pacific in Singapore. "The fallout from Turkey is unlikely to cause a credit crunch in the euro zone."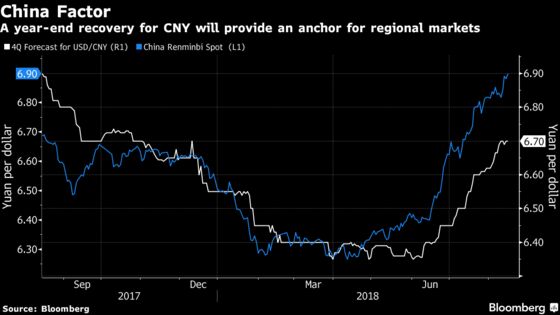 China, the main export market for most Asian economies, has announced a raft of measures to bolster growth as the trade spat with the U.S. compounds the fallout from its deleveraging campaign. The onshore yuan is trading near a 19-month low even after policy makers eased capital requirements to increase lending and pledged to boost support for infrastructure investment.
"China stimulus is going to continue to pick up and that's very positive and will certainly limit any big downside from here," said Wong of Fidelity.
Pacific Investment Management Co. is taking a "relatively light and tactical" position in regional currencies and bonds as it weighs the risks against the attractive valuations that have emerged.
"EM Asia is at a cross roads when it comes to risk-taking appetite by investors," said Roland Mieth, emerging markets portfolio manager at PIMCO in Singapore. "What happens in China - particularly on whether policymakers will be successful in easing liquidity conditions, support growth and allow a weaker CNY without triggering capital outflows - will remain key for global sentiment in the next 6-12 months."