Turkish Finance Minister Rules Out Capital Controls as Policy Option
(Bloomberg) -- Turkey won't impose capital controls to support the battered lira, Finance and Treasury Minister Berat Albayrak told 6,000 investors in a global conference call held to bolster confidence in the Middle East's largest economy. The currency gained against the dollar.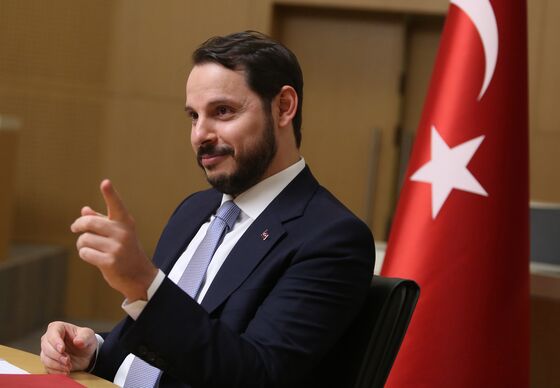 Restricting capital flows isn't an option in a free-market system, Albayrak said on the call Thursday. The minister, President Recep Tayyip Erdogan's son-in-law, said he's focused on fixing key weaknesses in Turkey's $880 billion economy, including reining in inflation and narrowing the current-account deficit.
The discussion offered a glimpse into the new economy chief's thinking amid an escalating dispute with the U.S. over a detained American pastor that has roiled financial markets in Turkey and beyond. After the call, U.S. Treasury Secretary Steven Mnuchin said new sanctions were being prepared if Turkey fails to release the pastor. An appeals court is expected to rule this week.
The lira lost as much as a quarter of its value in the span of a few weeks after the U.S. sanctioned members of Erdogan's government, prompting regulators to make it more costly to bet against the currency. Some investors said they were reassured by Albayrak's remarks, though they criticized his lack of detail on key issues.
"His delivery was solid and reassuring," Brown Brothers Harriman & Co. strategist Win Thin said by email. "However, points off for avoiding tough questions on monetary policy and short-term external debt coming due."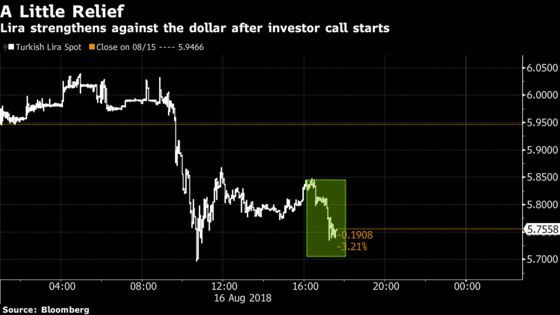 The lira pared gains after Mnuchin's comments. It was trading 2 percent stronger at 5.8250 per dollar at 7:35 p.m. in Istanbul.
On inflation, Albayrak said the central bank alone wouldn't be able to rein in price gains to targeted levels without tighter fiscal policy. Consumer-price growth exceeded 15 percent last month, triple the official target.
Bluebay Asset Management LLC strategist Tim Ash cited Albayrak as saying that budget cuts across all ministries will save the government 35 billion liras ($6 billion) between now and the end of the year. Albayrak also pledged to review big-ticket infrastructure projects, the hallmark of Erdogan's 15-year rule, to find additional savings, according to Ash.
Albayrak's appointment to the cabinet has finalized a years-long process whereby market friendly names in the government have been ousted one-by-one. Mehmet Simsek, Albayrak's predecessor, was pushed out after trying to counter Erdogan's penchant for growth at all costs.
While portraying the recent market turmoil as the result of an economic war being waged against Turkey by the U.S., Erdogan has said the road map out of the current turmoil will entail continuation of record growth.
But Albayrak said Thursday that the policies he intends to implement -- those don't include higher interest rates or an appeal to the International Monetary Fund -- will likely lead to more moderate growth.
Albayrak provided "plenty of reassurance" about implementing an orthodox policy mix, Rabobank emerging-market currency strategist Piotr Matys said.
"He emphasized that rebalancing the economy is one of the main priorities as reflected in lower official growth projections," Matys said. The problem is that "the market doesn't want to give him the benefit of the doubt."