Norway Keeps Rates Unchanged on Path to Tightening Next Month
(Bloomberg) -- Norway's central bank kept its key interest rates unchanged, setting policy makers up for the first tightening in seven years next month.
The bank on Thursday held its benchmark at a record low of 0.5 percent, as anticipated by all analysts surveyed by Bloomberg.
"The outlook and the balance of risks do not appear to have changed substantially since the June report," Norges Bank Governor Oystein Olsen said in a statement.
Policy makers in Oslo are preparing for the first rate increase since 2011, moving along with a global unwinding of the stimulus unleashed in the wake of the financial crisis. A record bout of monetary and fiscal stimulus has put the economy back on its feet after western Europe's largest crude exporter endured the worst oil industry slump in a generation.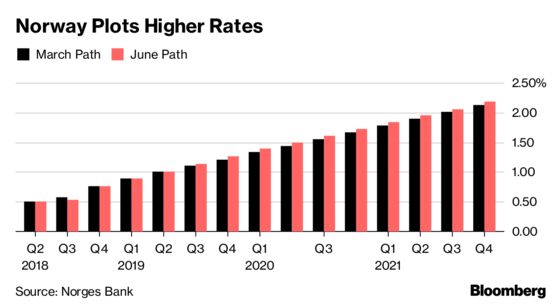 Since its previous monetary policy report in June, when it said an increase will probably come in September, economic indicators have developed largely in line with its forecasts. A weaker than expected currency is also providing room for Olsen to start raising rates.
Nordea Bank AB's Joachim Bernhardsen said the bank's statement "was as neutral" as you can get. "The September hike is closed to carved in stone, and should support the krone during the fall," said.
The krone was little changed after the decision, trading at 9.588 per euro.
Marius Gonsholt Hov, a senior economist Svenska Handelsbanken AB in Oslo, said the signal is clear that the strategy from June stands.
The rate decision was a so-called interim meeting, which is in between monetary policy reports, where it rarely makes any changes or issues guidance on future rates.