U.K. Inflation Rate Accelerates on Fuel, Transport, Games
(Bloomberg) -- U.K. inflation accelerated for the first time in eight months in July, boosted by the cost of auto fuel, transport tickets, computer games and food.
Annual consumer-price growth quickened to 2.5 percent from 2.4 percent in June, as economists forecast, figures from the Office for National Statistics Wednesday show.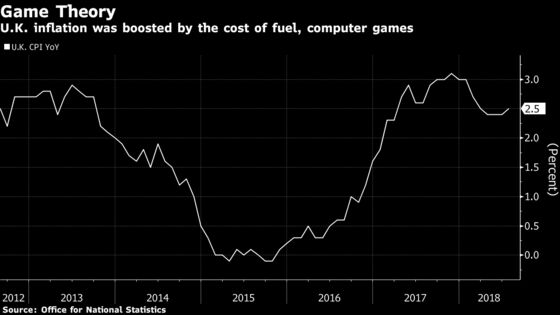 The Bank of England had predicted inflation would pick up to 2.6 percent in July before resuming its downward path as the effect of sterling's post-Brexit referendum decline fades.
Officials raised interest rates this month to tame price pressures in the labor market and indicated further hikes will be needed to return inflation to target, providing Britain avoids a chaotic Brexit.
What Our Economists Say...
"The rise was mainly driven by volatile computer game prices, a move that says little about the underlying inflation trend. There are good reasons to expect price gains to fall back in the coming months, the most significant of which is the waning influence of past sterling declines."

Dan Hanson and Jamie Murray, Bloomberg Economics
Upward pressures on inflation were offset by some financial services and clothing and footwear prices, which fell 3.7 percent on the month as struggling retailers extended summer discounts. The drop in women's clothing prices was particularly marked.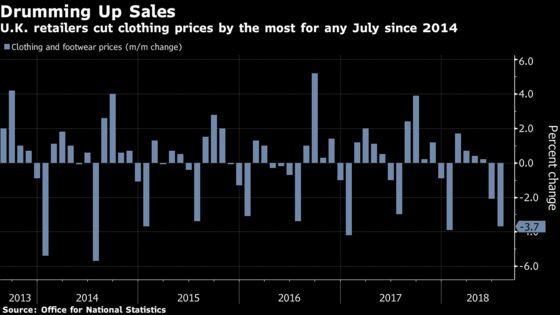 Core inflation, which excludes food, energy, tobacco and alcoholic drinks, stayed at 1.9 percent. The pound was little changed after the data, and traded at $1.2723 as of 11:16 a.m. London time.
"This rise should be seen as a brief upward blip in an otherwise falling profile for CPI inflation -- we believe to around its 2 percent target by the end of the year," said George Buckley, chief U.K. economist at Nomura in London. "The upward impact of sterling's past depreciation is beginning to fade, while at the same time domestic inflation pressures have thus far been limited."
July's retail-price inflation rate, which is used by rail carriers to set fare increases, slowed to 3.2 percent. There is pressure to link rail fares to the lower CPI rate to ease the strain on consumers whose basic wages are barely growing faster than prices.
Producer input prices rose 0.5 percent, taking the annual rate of increase to 10.9 percent with oil accounting for much of the gain. Factories, however, have chosen to absorb the pressure rather than pass it on to consumers with output prices rising just 3.1 percent.
House prices rose an annual 3 percent in June, the least since August 2013. The worst-performing region was London, where prices dropped 0.7 percent -- the most since 2009 -- as Brexit fears and stretched affordability sapped demand.