Thai Central Bank Plays It Cool While Emerging Markets Worry About Turkey
(Bloomberg) -- Thailand is playing it cool even as Turkey stokes heat under emerging-market central banks.
Countries such as Indonesia and India were already raising interest rates as their currencies weakened, even before Turkey's travails fanned talk of contagion. Thailand, in contrast, is proving more resilient, aided by flush foreign reserves, baht stability and benign inflation amid steady growth.
That's giving Thai policy makers a degree of more comfort even as some developing-world counterparts struggle. Bank of Thailand Assistant Governor Chantavarn Sucharitakul said Tuesday there's no reason for pre-emptive action yet amid the Turkey rout as Thai markets are orderly. Thailand is tied for the second-least vulnerable of 19 emerging-market economies based on the current account, external debt, inflation, and government effectiveness, according to a Bloomberg Economics analysis.
The Bank of Thailand for much of this year expressed a no-rush view on hikes even as Federal Reserve tightening forced some other nations to follow the U.S. lead. Thai officials have signaled the possibility of lifting borrowing costs from the near-record-low of 1.5 percent, but that's more to create policy space for future downturns rather than because of what's happening in the U.S. or the Turkey fallout.
Here's a look at the resilient fundamentals framing the debate around Thai monetary policy: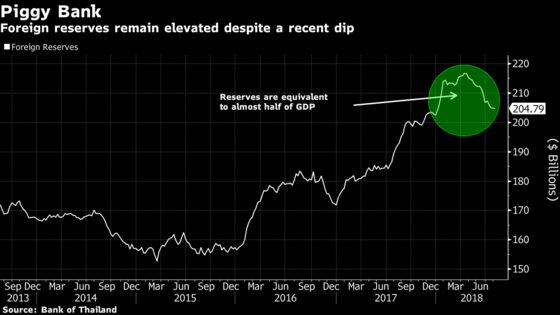 Thailand has a healthy war chest to stem currency instability, a key cushion given the $455 billion economy's dependence on exports and tourism. The foreign reserves set it apart from a number of peers, providing breathing room for monetary policy.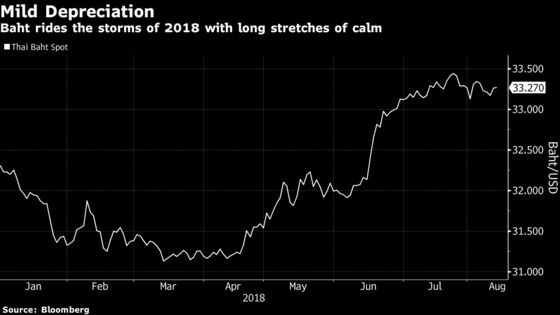 Most Asian currencies have weakened against the dollar this year, except for the yen, playing its role as a haven in times of stress. The baht has dipped 2 percent over the same period, one of the smallest declines in the region.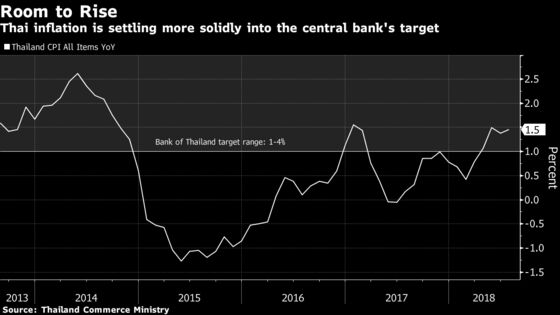 Thai inflation only recently broke back into the central bank's target range as oil prices climbed. The prospect of a durable acceleration in price growth could add to the case for an interest-rate hike before the end of 2018.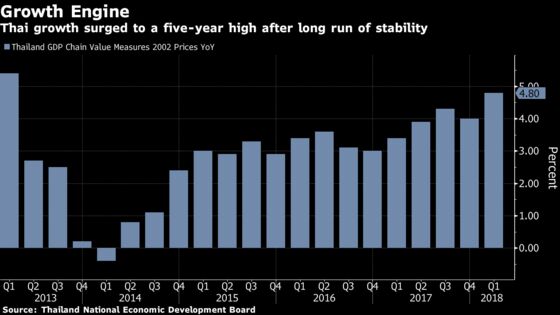 Thailand's growth hasn't been a barn-burner, but isn't shabby either for an economy still trying to ignite private investment and consumer spending. Expansion stands at a five-year high of 4.8 percent, with much of the policy debate riding on the next batch of growth data, set for release Aug. 20.