Euro's Prospects Grim as Turkey Turmoil Sets Up Further Selloff
(Bloomberg) -- The euro's bad year could be about to get worse.
The common currency has fallen more than 5 percent in 2018 and analysts see the downward trend continuing, even as the market turmoil in Turkey eases. As euro-area growth slows and rate differentials lead investors to unwind bullish euro positions from earlier in the year, Deutsche Bank AG and Nomura International Plc see a possibility the currency will drop as low as $1.10.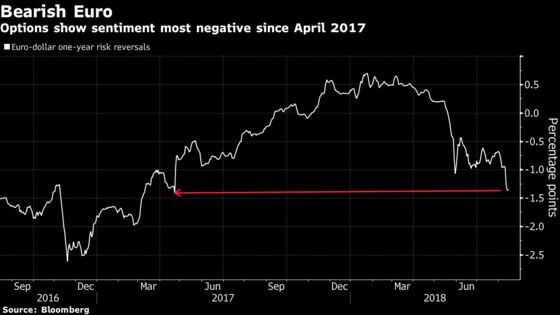 "I think $1.10 is the next stop, and we are underweight the euro," said Alessio de Longis, an OppenheimerFunds money manager, in an interview on Bloomberg TV. "It's this confluence of factors of weakening growth and rising credit risks that makes this a bit of a vulnerable situation."
The common currency has been knocked in recent months by the European Central Bank signaling it sees interest rates staying at current levels through the summer of 2019, with a revision lower to euro-area inflation last month reinforcing the case. As the Federal Reserve continues on its hiking path, the two-year yield differential between U.S. Treasuries and German bonds is near the widest since data began.
The euro was 0.2 percent up at $1.1370 as of 8:22 a.m. in London Thursday, after touching a 13-month low at $1.1301 Wednesday. Technically, the euro may target $1.1187, the 61.8 percent Fibonacci retracement of its gains since January 2017. The common currency could move to levels seen before the French elections in 2017, the target of a so-called head and shoulders formation completed earlier in August.
Options markets still show strong demand for longer-term downside exposure, with one-year risk reversals at 135 basis points in favor of euro puts, close to the most bearish sentiment since April 2017.
Turkey hasn't helped, spurring a selloff in European bank stocks as data from the Bank for International Settlements indicates Spanish lenders are among the most exposed.
Clients are lining up to sell the euro, partly as a hedge against their Turkey exposure, according to Mizuho Bank Ltd.'s head of hedge fund sales Neil Jones. The shared currency has also slid this week against the yen and Swiss franc.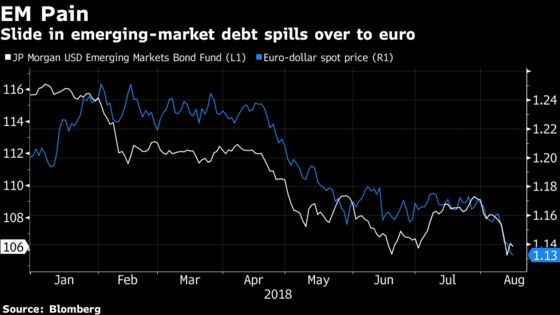 The wider risk-off dynamic is likely to persist and a correlation between emerging-market bond yield spreads and euro-dollar has returned, said Jordan Rochester, a strategist at Nomura.
Turkey was the catalyst for euro-dollar to break the $1.15 level, adding to bearish momentum for the pair, according to Alan Ruskin, global co-head of foreign-exchange research at Deutsche Bank. Even as the selloff in the lira looks to have stabilized for now, weakness in other emerging-market currencies such as the Chinese yuan is likely to continue to weigh on the euro, he said.
"This is much more than a Turkey story," said Ruskin.