Emerging Markets Get Pummeled and Are on the Cusp of a Bear Market
(Bloomberg) -- Turkey may have helped buoy the lira, but the rest of the developing world is reeling -- with stocks on the verge of a bear market.
The MSCI Emerging Markets Index has tumbled almost 20 percent from a January peak, while a currency measure slipped to the lowest since May 2017. South Africa's rand was battered by a downbeat assessment by Moody's Investors Service, while a surprise rate hike by Indonesia failed to lift the rupiah for long. A rout in Chinese technology shares spiraled into a broad selloff, with the yuan weakening past 6.9 per dollar. The lira climbed as Turkey took its boldest steps to ward off a financial crisis.
Emerging markets got pummeled amid a turmoil that included everything from a rising U.S. dollar to the end of an era of easy money, prospects of a global trade war, American sanctions and Turkey's crisis. Many analysts say that the developing world has mostly done its homework over the past decade and central banks are more resilient. While there's no indication of a bigger blowup that will sharply curb global growth, investors are taking a more cautious approach amid wild market swings.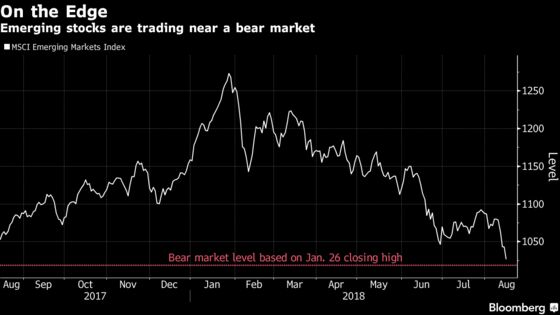 "That the rest of EM is selling off hard despite the lira bounce supports my view that it's not really about Turkey," according to Win Thin, a strategist at Brown Brothers Harriman & Co. in New York. The developing world is likely to be in a bear market into 2019 regardless of the endgame in Turkey, he said.
Highlights:
MSCI Emerging Markets Index sank 1.8 percent to 1,023.43
CBOE Emerging Markets ETF Volatility Index surged 26 percent
MSCI Emerging Markets Currency Index extended weekly slide
Risk premium of EM sovereigns +4bps to 368bps: JPMorgan indexes
Billionaire Downplays EM Rout as World Nowhere Near Trade War
Turkey Troubles Are EM Buying Opportunity, Says Rob Arnott
EM's Isolated Shocks Add Up to Systemic Risk, IIF's Brooks Says
Emerging Market Central Banks Show Power in Beating Back Attacks
Stronger Dollar More Dangerous to EM Than Turkey, ABN AMRO Says
Peru President Martin Vizcarra and Central Bank President Julio Velarde address Swiss Chamber of Commerce dinner in Lima, while Finance Minister Carlos Oliva speaks at Peru CFO Summit.
Brazil CPI IPCS
Mexico central bank policy minutes
Malaysia GDP
Turkey industrial production
Egypt rate decision
EARNINGS: For a list of the day's biggest releases, click here.
ARGENTINA:

Merval Index rose 2.2 percent to 27,131.69
Peso declined 1.3 percent to 30.00 per dollar
Argentina's Big Bond Market Gamble Gets Test at Auction Today
Argentine Peso Hits All-Time Low as Emerging Markets Sell Off

BRAZIL:

Ibovespa dipped 1.9 percent to 77,166.13
Real declined 0.9 percent to 3.90 per dollar
10-year local-bond yield fell five basis points to 11.67 percent
Economic activity dropped in the second quarter
Presidential hopeful Jair Bolsonaro pledged privatizations to cut debt by 20 percent
Lula's party said it wanted capital controls, broader central bank target

MEXICO:

Mexbol index dipped 1.1 percent to 48,555.03
Peso fell 1.6 percent to 19.187 per dollar
10-year local-bond yield rose four basis points to 7.87 percent
Foreign Affairs Minister Luis Videgaray and Economy Ministry Ildefonso Guajardo visit Washington for new round of Nafta talks
President-elect Andres Manuel Lopez Obrador will push a legal reform for public spending structure to achieve austerity, El Financiero reported

Click for market news on ANDES
TURKEY:

Borsa Istanbul 100 Index fell 3.4 percent to 90,262.95
Lira gained 7 percent to 5.9367 per dollar
Central bank will probably keep squeezing liquidity until lira pressure eases "significantly," said Erkin Isik, a strategist at Turk Ekonomi Bankasi AS in Istanbul
Qatar promised to invest $15 billion in the country
Hedge Fund Sits Tight With Turkish Bet as Contagion Roils Market
Turkey Moves to Avert Financial Crisis as U.S. Spat Worsens
Turkish Short-Dated Bonds Hit in Move to Stem Lira Plunge: Chart

SOUTH AFRICA

FTSE/JSE Africa All Share Index fell 3.8 percent to 49,615.06
Rand declined 2.3 percent to 14.5837 per dollar
9-year local-bond yield gained seven basis points to 9.016 percent
Moody's sees slower fiscal progress than government
Naspers Tumbles Most Since 2008 After Tencent Misses Estimates
'Ramaphoria' Evaporates as Reality Sets in for South Africa

RUSSIA:

MOEX Russia Index dipped 0.7 percent to 2,267.13
Ruble declined 1.4 percent to 67.3125 per dollar
10-year local-bond yield gained nine basis points to 8.4 percent
Bank of Russia reports it made at least 3-day pause in purchasing FX for Finance Ministry under fiscal rule
Sanctions Risk May Prompt First Russian Rate Hike Since 2014
Russian Game of Cat-and-Mouse With U.S. Puts Debt Cache in Doubt

Click for market news on POLAND and HUNGARY
CHINA:

Shanghai Composite Index declined 2.1 percent to 2,723.26
Offshore yuan fell 0.7 percent to 6.9465 per dollar
10-year local-bond yield gained two basis points to 3.585 percent
Government vowed to meet 2018 economic targets despite trade fight
"There's the double whammy coming from the U.S.-China trade tension and the latest negative news from Turkey," said Jingyi Pan, Singapore-based market strategist at IG Asia Pte
JPMorgan said LGFV defaults won't become a widespread phenomenon
China Markets Slide as Yuan Falls Past 6.9, Tencent Drags Stocks

INDIA:

Markets closed for Independence Day
Trade deficit in July widened to the most in more than five years

Click for more on markets in ASIA