Australian Dollar Suffers Collateral Damage in Trade War
(Bloomberg) -- Investors have brushed aside Australia's world-beating economic growth to make its currency the whipping boy of the trade war.
Down 8 percent in the past six months, the Aussie dollar's correlation with the tumbling offshore yuan reached the strongest on record in August as investors entwine the two nations' fortunes. It's a clear sign of Australia's vulnerability to a slowdown in China that's being exacerbated by U.S. tariffs. And if that wasn't enough, the Aussie's set to remain under pressure as the crisis engulfing Turkey drives a flight to safety and the U.S. dollar.
"We're No. 1 on the list of collateral damage in who really has a lot to lose if the China story goes south," said Sally Auld, JPMorgan Chase & Co.'s head of fixed-income and currency strategy for Australia. "We're a small, open economy that's highly leveraged to trade and to China so anything that creates difficulty with global trade is bad for us by definition. It's pretty fundamental to our economic well-being."
Australia's currency is under fire as the economy caps a 27th recession-free year amid accelerating growth, robust exports and the government eyeing its first budget surplus in a decade. Fear has become the main driver: China buys more than a third of Australia's exports, equivalent to about 8 percent of gross domestic product. That, combined with Australia's liquid foreign exchange market, makes the currency an ideal target.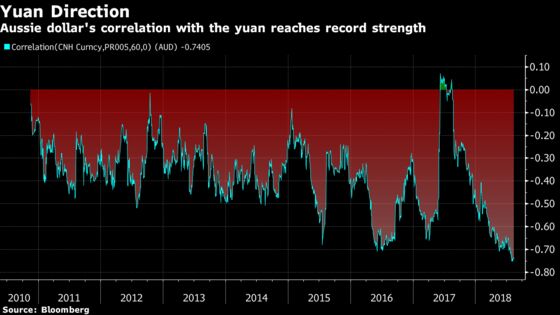 Rodrigo Catril, a currency strategist at National Australia Bank Ltd. in Sydney, says it's "not unreasonable" to see a level below 69 U.S. cents if there's a spike in volatility and commodity prices drop. Nick Twidale, chief operating officer at Rakuten Securities Australia Pty., a unit of the major Japanese trading house, reckons the Aussie will trade below 70 U.S. cents by year's end, and potentially as low as 60 cents in the longer-term.
The currency regained some lost ground on Thursday after China said it planned to resume trade talks with the U.S. in late August. It bought 72.61 U.S. cents at 12:45 p.m. in Sydney.
"The Aussie has been regarded as the major currency risk proxy for the APAC region and specifically China for a while now, and for good reason," said Twidale. "As global trade tensions persist and indeed increase, and more specifically tensions between China and the U.S., then investors will continue to look to sell the Aussie dollar."
A weaker currency is welcomed in some quarters. The Reserve Bank of Australia has kept interest rates at a record-low 1.5 percent for two years, with some economists seeing it staying there for another two. A leg down in the Aussie opens up the possibility of faster growth and inflation that could spur policy makers into action -- but the context will be important.
If the currency should sink into the 60s against a backdrop of a trade war that's hurting global growth, it's unikely to encourage Governor Philip Lowe and his board to consider tightening policy. But should such a move happen in a strong global environment and healthy domestic backdrop, that could change the equation.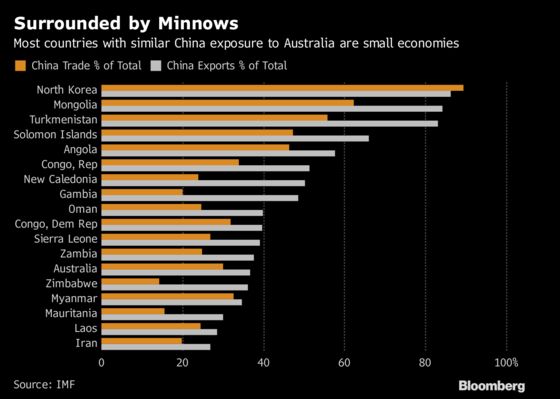 While there have been murmurings about China and the U.S. restarting trade talks, the tariff deadlines are looming: another round is set for next week and a third is potentially coming in September. The rhetoric remains severe: the Trump administration has portrayed President Xi Jinping's government as a protectionist regime that needs to be reined in; while China has warned the U.S. that it's willing to "fight to the end."
"The Australian dollar is a risk-sensitive currency," said NAB's Catril. It "remains vulnerable to the increasing probability that we will see an escalation in U.S.-China trade tensions."
The Trade War Is On: Timeline of How We Got Here and What's Next
Australia and its currency have often been seen as a barometer for the global economy. Former Federal Reserve Chairman Alan Greenspan said he often looked Down Under for an indicator on the U.S. economy. Yet in recent times the Australian story has decoupled from the global picture, lately characterized by tighter monetary policy as nations approach full employment that's still to be achieved in Australia.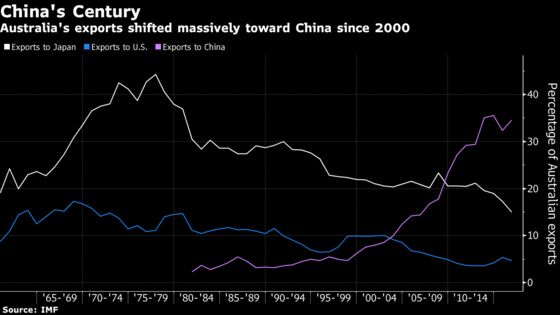 Even as the world lumps Australia with China, direct hits from a trade war aren't being felt in Sydney. China dominates Australian shipments of iron ore to produce steel for infrastructure and housing, and it also fuels growth in its education exports, but these industries are of almost no relevance to the U.S.-China dispute.
"It's hard to argue that we're in the direct firing line if you look at what the U.S. is proposing or has put tariffs on," said JPMorgan's Auld. "We're just being caught up in the dollar strength at the moment. There's no reason why we should get pounded just because the Turkish lira is belted."