Eastern Europe's Biggest Economies Dip as Boom Starts Fading
(Bloomberg) -- The boom that began to take hold four years ago in Europe's ex-communist east is fading.
Second-quarter growth dipped from a peak at the start of the year in Poland and the Czech Republic, the region's two biggest economies, data released Tuesday showed. While Hungary, Romania and Slovakia managed quicker expansions, headwinds include higher borrowing costs, a dearth of workers and this year's slowdown in the euro area, the main export market.
"Economic trends in the region are starting to diverge," Jaroslaw Janecki, chief economist for Poland at Societe Generale SA in Warsaw, said before the data were released. "Risks are growing regarding U.S. trade policy and regional labor shortages."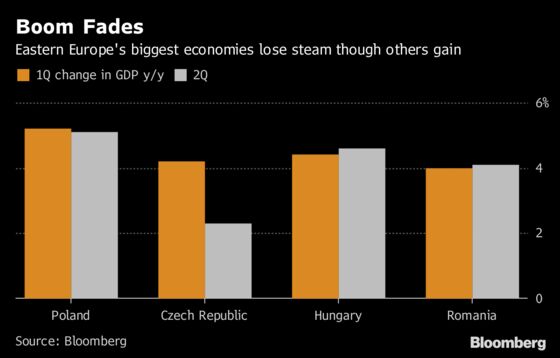 While growth is still strong, nations from the Baltics to the Balkans are seeing the first signs that their it has peaked. The region has largely dodged the turmoil gripping other emerging markets, but uncertainty over trade risks denting demand for products including cars and electronics. Meanwhile, inflation pressure has prompted the Czech Republic and Romania to raise interest rates.
Currencies in the region were stronger against the euro amid a rebound in riskier assets as the Turkish lira rallied first time in a week. The forint strengthened as much as 1.2 percent against the euro, while the zloty gained 0.7 percent and the koruna 0.4 percent.
Growth in Polish gross domestic product slowed slightly, to 5.1 percent year-on-year
Czech GDP cooled to 2.3 percent from 4.2 percent in the first quarter. "The Czech export industry is grappling not only with a lack of workers, but also with an increasing risk of weaker foreign demand because of the threat of trade wars," said Jakub Cervenka, an analyst at Raiffeisenbank AS in Prague
Bulgaria's economic expansion slowed to 3.4 percent
Hungarian GDP growth unexpectedly quickened to 4.6 percent, the fastest pace since 2014, driven by agriculture, services and manufacturing
Romania, which has raised interest rates three times this year to combat inflation, saw its expansion tick up to 4.1 percent from 4 percent. "We see the full 2018 growth closer to 4%, and risks are broadly balanced," said Valentin Tataru, an economist for Romania with ING. "From the monetary policy stance, "a somewhat slower reduction in the degree of accommodation" is expected, which could keep household spending afloat"
Slovakia's economy grew 4.1 percent, compared with 3.6 percent in the first quarter
"The gradual slowdown in eastern European GDP growth will continue over the course of 2018 and into 2019," Capital Economics said in an emailed note. "Higher inflation and interest rates, as well as less supportive fiscal policy in parts of the region, will probably take the steam out of domestic demand. And weaker demand from the euro zone and mounting capacity constraints will weigh on net trade."