Productivity Jolt May Fizzle in Setback for Trump's Growth Goals
(Bloomberg) -- U.S. productivity growth soared last quarter and could stay strong over the coming year. But the up-tempo pace may fizzle, frustrating President Donald Trump's efforts to shift the economy into a faster gear.
Output per hour worked rose at an annual rate of 2.4 percent last quarter, according to the median forecast of economists surveyed by Bloomberg ahead of Wednesday's data release. That's more than double the 1.1 percent average during the current expansion, though lower than the 3 percent pace during the late 1990's boom.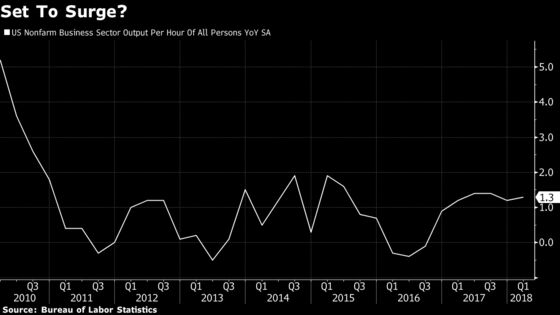 "We are going to see a revival in labor productivity growth over the next two years as the stimulus from the tax cuts and higher government spending boost output more than it is possible for the growth in labor input to increase," said Robert Gordon, an economics professor at Northwestern University in Evanston, Illinois.
Such stepped-up productivity growth would allow firms to both fatten profits and raise wages. It also would support faster economic growth without generating higher inflation, a development Federal Reserve Chairman Jerome Powell and his colleagues would welcome.
Experts, though, say the longer-term outlook for productivity -- and the expansion -- is less bright. The economy's long-run cruising speed, the fastest it can grow for a sustained period without straining resources, is 1.8 percent per year, said Gordon, author of the 2016 book "The Rise and Fall of American Growth: The U.S. Standard of Living since the Civil War."
John Fernald, a professor at the Insead business school in Fontainebleau, France, estimates trend growth is 1.6 percent. "A little over 1.5 percent still seems like the best guess for the next five to 10 years," said Fernald, who's on leave from the San Francisco Fed.
Numbers like those are below the 3 percent rate that Trump administration officials have said is attainable. They argue that business tax breaks, deregulation and more favorable trade terms will lift growth above the 2.1 pace from 2010 to 2016.
"Our 10-year projections are at 3 percent and we are comfortable we're hitting these numbers," Treasury Secretary Steven Mnuchin said on "Fox News Sunday" on July 29.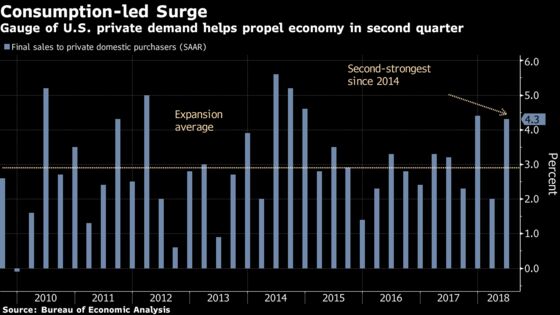 Business investment is rising as companies respond to the tax cuts and to a tightening labor market that's making it harder to recruit workers.
Case in point: New York-based burger chain Shake Shack Inc. has begun experimenting with eliminating cashiers to contain rising labor costs. "We've gotten some of our highest marks from our guest surveys on the experience of the kiosk," Chief Executive Officer Randy Garutti told analysts Aug. 2.
While productivity experts agree that Trump's tax program will encourage companies to boost capital investment, even the more optimistic ones don't see the major gains that administration officials do.
"My estimation of how big that effect is is in the realm of modest, whereas theirs is in the realm of spectacular," said Daniel Sichel, a former Fed Board official who is now a professor at Wellesley College in Massachusetts. He sees an economy poised for stronger growth, just not as robust as the Trump team envisages.
"The supply-side conditions are in place for getting a regime shift for a productivity revival," he said, arguing that companies are ready to put robots and other innovations to work. He forecasts trend gross domestic product growth of about 2.5 percent.
In making the case for tax reform, administration officials maintained that the economy had been held back by a paucity of productivity-enhancing business investment.
Recent GDP revisions though show that such spending was stronger than first thought. Equipment outlays by companies are now calculated to have grown 3.8 percent per year over the past five years, up from 3.2 percent.
"We don't have an investment problem," Gordon said. "We have an innovation problem, a problem in translating the many innovations that are happening into productivity growth."
Joel Prakken, chief U.S. economist at IHS Markit's Macroeconomic Advisers, agreed. His number-crunching suggests that so-called total factor productivity -- a proxy for innovation -- hasn't contributed anything to economic growth in recent years.
While acknowledging that past business investment now looks stronger, White House Council of Economic Advisers Chairman Kevin Hassett said its impact on productivity growth had still been meager.
"Upward revisions in the latest data do not change the basic economic story" that was the case before tax reform, Hassett said in an email. "The contribution of capital deepening to labor productivity growth was the lowest in modern U.S. history in the years before President Trump was elected."
Regardless of what happens with productivity, Gordon and Fernald said the economy will be held back in coming years by slower labor force growth as aging baby boomers retire. That drag would be greater if Trump succeeds in dramatically curbing immigration, Gordon added.
Sichel said other Trump administration policies could delay a shift to a higher growth path. They include increased trade restrictions, less support for research and development, and more political meddling in corporate decision-making.
"I'm still hopeful," he said. "But I would say there are storm clouds on the horizon, mostly having to do with Trump administration policies."