Indonesia Rate Decision a Close Call as Turkey Rout Spreads
(Bloomberg) -- The wave of volatility engulfing emerging markets increases the odds of another interest-rate hike in Indonesia in a policy decision on Wednesday that economists say is a close call.
A rate pause this week was looking like a comfortable prediction after three rate hikes totaling 1 percentage point since mid-May helped to stabilize the rupiah and reverse some of the outflows earlier this year. That was all upended when Turkey's lira plunged last week, sparking fears of emerging-market contagion that put the rupiah back in the spotlight and forced Bank Indonesia to step up its currency intervention to stem the fallout.
While most analysts in a Bloomberg survey still predict the central bank will hold the benchmark rate at 5.25 percent on Wednesday, economists from Bank of America Merrill Lynch and Nomura Holdings Inc. said a fourth hike this year is possible.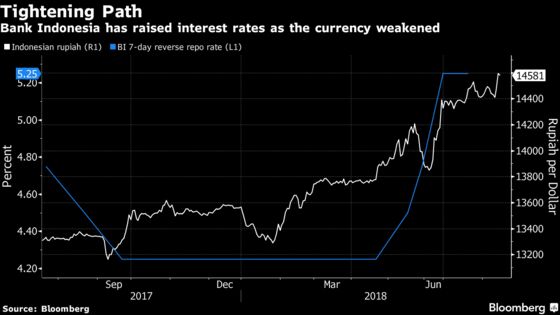 "The recent slide of the rupiah may increase the chances of a policy rate hike," said Joey Cuyegkeng, a senior economist at ING Groep NV in Manila. "If BI's direct intervention is successful to stabilize the rupiah, then a rate hike could be delayed. We are currently sticking to a steady policy rate decision for now but confidence level on the view has somewhat moderated."
Bank Indonesia has been among the most aggressive in Asia in tightening policy this year as higher U.S. interest rates and a stronger dollar roiled emerging markets from Argentina to India. Governor Perry Warjiyo and other bank officials have been consistent in their message of restoring stability to financial markets, pledging to take pre-emptive action when necessary.
Turkey's currency meltdown presents a new challenge to policy makers. Argentina took emergency steps on Monday by hiking its benchmark rate by 5 percentage points. India's rupee weakened below 70 per dollar for the first time, adding to inflation risks and complicating the central bank's job.
Indonesia's current-account deficit and a relatively high foreign ownership of government bonds make the economy vulnerable to outflows. The rupiah has slumped 7 percent against the dollar this year and was trading as low as 14,635 on Tuesday.
While external risks have mounted, the domestic outlook has improved. Economic growth reached a five-year high of 5.3 percent last quarter, inflation remains muted at 3.2 percent, and a surge in tax revenue is helping to keep the budget deficit in check.
Even so, that wouldn't prevent Bank Indonesia from hiking rates on Wednesday, said Trinh Nguyen, a senior economist at Natixis Asia Ltd. in Hong Kong, who is predicting a 25 basis-point increase.
"Bank Indonesia's mandate is price stability and the excessive weakness of the rupiah will prompt the central bank to react," she said. "The weaker rupiah may translate to higher imported costs even as inflation stays manageable."
President Joko Widodo is set to outline his budget proposals for 2019 on Thursday and give details of his spending plan as he gears up for next year's election. At a meeting with his ministers on Tuesday, he agreed to impose import curbs and accelerate the use of biofuels to cut crude oil purchases. That may help to shore up foreign reserves, which have been drained by almost $14 billion since January to stabilize the rupiah.
Tax collection rose 14 percent in the first seven months of the year compared with the same period in 2017, allowing the government to cut its borrowing this year. Finance Minister Sri Mulyani Indrawati has even said state revenue could be 8 trillion rupiah ($549 million) higher than the target.
Read More:

Indonesia is considering selling a dollar bond 
Emerging Asian economies are able to withstand Turkey shock
Bank Indonesia ready to intervene to maintain market confidence
Why the emerging-market rout is hitting Indonesia so hard
The stronger domestic outlook helps to offset global risks, said Deputy Governor Dody Budi Waluyo.
"Exchange rate and global liquidity volatility is still high and can result in higher pressure to the rupiah," he said in a text message response to questions. "That is why it is important to have positive development from the domestic side to maintain market confidence in the rupiah."
The last time Bank Indonesia surprised economists was in June when it raised the benchmark rate by 50 basis points, higher than the 25 basis points predicted by economists.
"The policy was going to be a close call and it looks like it will be closer still," said Mohamed Faiz Nagutha, an economist at Bank of America Merrill Lynch in Singapore. "But we stay with our call and think they will save their bullet for the September meeting."