Guggenheim's Scott Minerd Sees Glimpses of 1997 in Turkish Lira Strife
(Bloomberg) -- Scott Minerd, chief investment officer at Guggenheim Partners, sees echoes of 1997 in the current Turkish lira turmoil.
"The collapse in the Turkish lira (and problems in Italy, Argentina, India, and trade war rumblings) will run a similar course," he tweeted on Tuesday. "If there were ever a moment to harvest gains and reduce risk, it is August 2018."
The panic sweeping across emerging markets waned as Turkey caught a breather after the lira's plunge over the past month. The lira led gains among its global peers on the view that the steps taken by the central bank on Monday to support the banking system may help restore stability. The Argentine peso rebounded after the government announced plans to freeze tax reductions and rebates to save about $2 billion over the next two years.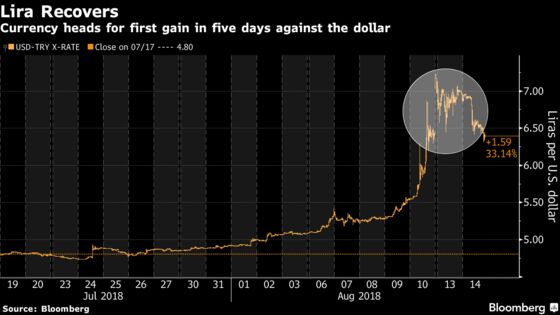 The S&P 500 Index rose for the first time in five days amid thin summer trading, tracking a similar move in Asia as the rout in Turkish assets eased.
Regardless of the easing global stresses, investors remain cautious as tensions between the U.S. and China haven't abated.
"Don't be fooled by recent complacency," Minerd said. "Seasonals are negative. Remember stocks peaked in August 1987 and the Thai baht collapsed in July 1997. Minsky would remind us that stability leads to instability."