Italian Bonds Slump as Shock Waves From Turkish Turmoil Spread
(Bloomberg) -- Italy's bonds led losses among euro-area sovereign debt markets as the Turkish currency turmoil fueled fears of a contagion effect across riskier assets.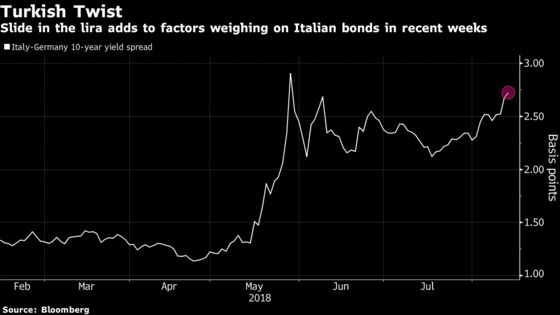 Yields on two-year securities climbed to the highest levels in more than a week as stocks worldwide declined following a 29 percent tumble in Turkey's lira this month. The Italian 10-year spread over German bunds hit the highest since May. Deputy Prime Minister Luigi Di Maio was reported as saying in an interview Monday that his country won't be subject to an attack by speculators.
"It's just a flight to safety move, with peripherals and in particular short-term BTPs hit relatively hard," said Martin van Vliet, senior interest-rate strategist at ING Groep NV. "Di Maio's comment on speculative attacks is also not taken positively, as this sort of echoes the economic warfare rhetoric from the Turkey leadership."
Italian bonds have dropped in recent weeks amid investor concerns about the new government's spending plans ahead of next month's budget. The European Union stipulates the deficit should be no more than 3 percent of gross domestic product, which could be challenged by proposals to cut taxes and introduce a basic income for the poorest.
Two-year yields climbed as much as 18 basis points to 1.34 percent, while those on their 10-year debt rose nine basis points to 3.09 percent. The spread over German 10-year yields increased seven basis points to 275 basis points. Spanish 10-year yields increased seven basis points to 1.48 percent.
French and Spanish banks are most exposed to a slide in Turkish assets with Italy and Germany next in line, according to the Bank for International Settlements. That could have a further knock-on effect on the region's bonds, according to Morgan Stanley.
It brings "markets' attention to contagion channels across asset classes given the recent EM wobble," Elaine Lin, a strategist at the U.S. bank, wrote in a research note. "Given the nexus between European banks and sovereigns, the contagion from EM could add to the sources of risk for European sovereigns on top of the political risks we already have endogenously, and also generate flight-to-safety bids for bunds."