CBO Cuts U.S. Growth Forecast Amid Warnings on Trade Spats
(Bloomberg) -- The Congressional Budget Office slightly lowered its forecast for U.S. economic growth for this year, and warned of increasing uncertainty from American plans to widen tariffs.
The U.S. economy is projected to expand 3.1 percent this year, down from a previous forecast in April of 3.3 percent, the non-partisan group said in a report on Monday. The expansion will ease to 2.4 percent in 2019, unchanged from April's projection, on slowing growth in business investment and government purchases, the CBO said.
"Despite the volatility in the rate of GDP growth in the first and second quarters of the year, CBO expects the momentum underlying that growth to largely continue into the second half of the year before slowing gradually in subsequent years," the group said.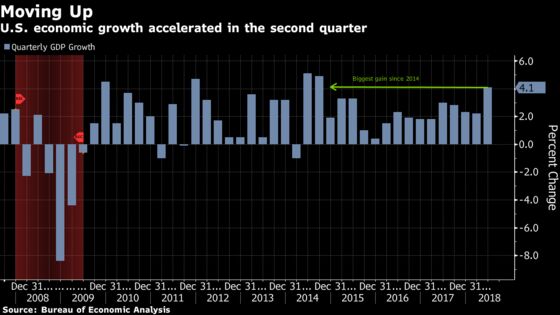 In its last long-term economic outlook in April, the CBO said the U.S. budget deficit is on track to top $1 trillion by 2020 from $804 billion this fiscal year and $981 billion the next.
The Trump administration's tax cuts and roughly $300 billion in spending increases are deepening the budget deficit. The gap widened by more than 20 percent to $684 billion in the first 10 months of the fiscal year, as revenue from corporate receipts dropped.
The Trump administration says faster economic growth resulting from the tax cuts will increase federal revenue over time. The second-quarter economic expansion of 4.1 percent was the strongest since 2014, up from a 2.2 percent level in the first quarter, while the unemployment rate is near a 50-year low. Real GDP growth was 2.6 percent last year.
Excess demand is expected to push up inflation and lead to higher interest rates, slowing economic growth to an average of 1.6 percent between 2020 and 2022, according to the CBO.
Trade tensions are also clouding the economic outlook. The International Monetary Fund has warned that President Donald Trump's tariff campaign, and the retaliation from America's trading partners, could undermine the global trading system.
Against China alone, the U.S. will have imposed 25 percent tariffs on $50 billion of imports as of Aug. 23, sparking retaliation, with another $200 billion to follow as early as next month. The actions are on top of import tariffs imposed earlier this year on steel and aluminum, washing machines and solar panels.
"Recently implemented changes to trade policies, and proposals calling for further changes, compound the uncertainty surrounding the current economic outlook," CBO said.