Wild Stocks, Yuan Slides, Record IPOs: A Week in China's Markets
(Bloomberg) -- Chinese stocks go wild, Hong Kong's on track for a record summer of IPOs, and the yuan slides despite efforts by the People's Bank of China to stabilize it ahead of the anniversary of its shock devaluation. Here's a roundup of what we've been talking about in China markets this week.
The tug-of-war between bulls and bears is heating up in China's stock market. At stake is whether the Beijing put -- a trio of looser policies from the monetary, fiscal and regulatory authorities -- is enough to convince traders that companies will be fine even as risks to growth escalate. Foreign investors, who've snapped up almost $3 billion in stocks since July 25, are having to contend with $100-billion swings almost every day, while intraday moves are now the widest since early 2016. Seasonally low volume in August isn't helping.
Everyone keep calm
The yuan's still falling. The currency was on track to weaken for a record ninth straight week, caught in a global currency selloff on Friday triggered by fears of contagion from turmoil in Turkey. China's central bank wants to see a stable yuan, urging the country's biggest banks to prevent "herd behavior" in the foreign-exchange market. Evidence suggests policy makers are largely letting the market drive momentum. As the Aug. 11 anniversary of China's shock devaluation approaches, analysts predict the yuan will steady.
If you're on an ECM desk in Hong Kong, you've been busy. The city's in the middle of its biggest summer on record for initial public offerings, with China Tower Corp. starting to trade this week after the biggest deal worldwide in two years. While Chinese network towers may not sound particularly exciting, investors seemed to like the security of a state-run company which controls almost all of the infrastructure in a mobile-phone loving nation. There was no first-day pop but no slump either, a reasonable performance all in all.
Funding is very, very cheap in China. Take a look at currency forwards, interbank borrowing costs, government bonds and interest-rate swaps to gauge how the country's easing bias is working its way into the market. While equity investors are still cutting leverage, fixed-income traders are making the most of the liquidity, borrowing money at record levels to snap up corporate debt. That's sent yields to a 2016 low versus the relative safety of government bonds. China's 10-year benchmark yield rose back above 3.5 percent.
Read more:
Leverage moves from stocks to bonds
This week's pick is all about pitting stocks against bonds. The latter's winning, even if equities offer the best relative deal in more than two years. Click here for the full story.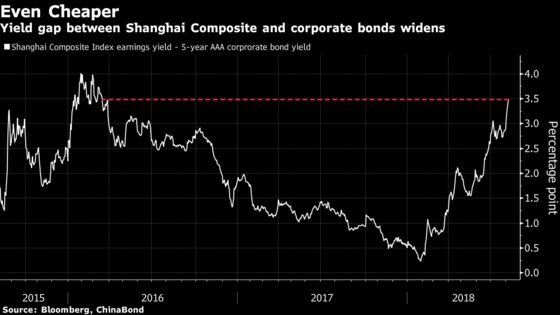 Here's what else caught our eye.
Chinese traders are ditching Hong Kong stocks.
Companies would rather raise debt than equity.
This investor is all over Asia's junk bonds.
China's exporters are going domestic.
Ping An Insurance (Group) Co. is mulling a big acquisition.
Tesla Inc. is finding some cash in China.
China's infrastructure plans are pushing up iron ore prices.
Here's another long-only loading up on A shares.